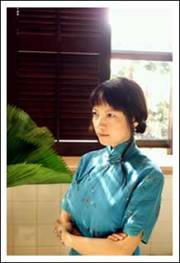 In writer Hong Ying's eyes, London is a free, quite simple and unsophisticated city that is overflowing with poetry. "There are many dropped apples in the grass, enough to enlighten 100 Newtons, as well as calamus, roses and pine trees sticking into sky. I can write peacefully there," says Hong Ying.
Hong Ying is a citizen of the United Kingdom who has been living in England and writing in Chinese for over 10 years. Her four fictional sagas and a series of her novelettes have been translated into 19 languages and published in more than 20 countries. In 1991, Hong Ying left Beijing and went to England with a student visa. However, she only studied English at London University for half a year. After that she married and stayed home writing. Hong Ying said, "I never had a regular job but have lived by writing."
The Man with the Typical London Style
Hong Ying's husband Zhao Yiheng is a full professor of Oriental School at London University in England. They knew each other in the 1980s when Hong Ying was a writer and Zhao Yiheng was a literary critic. But after 10 years, when Zhao Yiheng met Hong Ying and courted her, he has become a pure English gentleman.
Hong Ying still remembers the day when she agreed to be married. "He asked me to marry him only three hours after we met. I can remember I was in a red skirt that day and I definitely told him that I have another boyfriend. But he said he liked me because I was a direct woman, which was what he wanted.
"Only when I married my husband at 29 and settled down in London did I have my own desk and a room——for the first time in my life.
"Many people ascribed this change of luck to my husband. I needn't run desperately around in this harsh world to make a living, they said. Of course, before marriage my eyes were wide open for candidates and I was blamed for being too picky---my prince charming must be kindhearted, well-learned but not a bookworm. My husband is exactly the right sort, a man with the typical London style. With a tolerant smile, he just shrugged off the topic after I related my past, a past most men would mind. Heaven must have taken pity on this poor girl for the first time in my life and the god of fortune smiled upon me."
The Wedding of a Chinese in the English Style
In England, Hong Ying saw some weddings which made her feel that some Chinese weddings were short of meaning and ceremony. The hullabaloo of eating in some Chinese weddings is quite different from the solemnity and connotation of a marriage. The ceremony of marriage is not dispensable. If it is dispensable, the marriage itself might also become dispensable.
When talking about her marriage, Hong Ying felt strongly that "According to English tradition, people are married in church. So we went to church for three continuous weeks and asked other people if they approved of our marriage. No one objected because they did not know us. But the Abba who took charge of our wedding was suspicious of my husband because he thought I was younger than my stated age. He thought I was smuggled to England from China. After checking my passport, he confirmed that I was 29 years old. At that time I was very thin, just like a 19 year old girl. My English was not good and I needed to say my vows in English on our wedding day. All my friends were afraid that I would speak incorrectly. But it was very interesting that everything I said was right. Our friends spoke Chinese even though they were professors at London University. The Abba said he had never been surrounded by so many people speaking a foreign language."
The Quietness of Rural London
Chongqing, Beijing and London are three important cities in Hong Ying's life. "Chongqing is my hometown and the straightforward Sichuan dialect is what I cannot forget. I like Beijing which is a flourishing city where I have many friends and there are also many different kinds of people there."
The house of Hong Ying in England is located in the outskirts of London and has a very beautiful natural environment. Living there is very convenient and they can get downtown by train in 40 minutes. Their house is very well-marked in a row of houses because "The British liked to paint their houses light pink, while we used light blue and our car is red. When we finished painting the house, many passers-by stopped to see it and felt it very strange. Even one of our neighbors thought we were committing a crime!"
In the London house, one of Hong Ying's pleasures is to make friends with little animals:
"You cannot believe how many animals there are that understand humans. Sometimes I found that some small items, such as finger rings, were missing and it felt very strange. But later my neighbor told me that these things are taken away by birds to be given to their lovers! Around my house there were deserted lands, which were supposed to be haunted. Sometimes I caught sight of a beautiful red fox peering into my garden. I grew some peas in the garden and the fox came to steal them. After I grew flowers instead, it did not come again. When we dug the pond, we found our neighbor's cat was always squatting nearby. I was afraid it would catch the fish when there were fish in the pound. But little did we know that this cat was the guardian of the pond and prevented other cats from approaching!"
The Impression of Underground in London
Sometimes Hong Ying likes to take her laptop to accompany her husband to London University by train, a 45 minute ride. "London has the densest underground in the world. The underground is the most democratic vehicle in London. Everyone likes to go to downtown by underground except those stars who are afraid to be recognized. It is most impressive to me that sometimes the underground in London uses expensive advertising space to display poetry. Recently a public opinion poll in London showed that firstly people wished that the underground could be more punctual and secondly people hoped to see more poems and less advertising.
"It is very interesting to ride the old train in London. When watching the back of people who are leaving hastily I am reminded of the 'petals on a wet, black bough' from In the Station of the Metro, a poem by Ezra Pound."
(Source: Women of China English Monthly, January 2005)