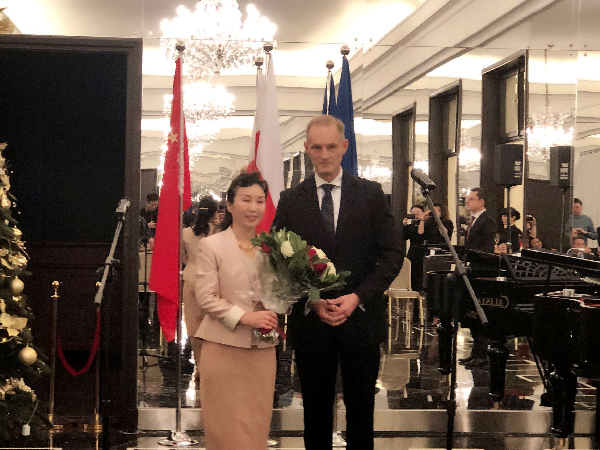 Wojciech Zajączkowski (R), the Polish Ambassador to China, poses for a photo with Du Jing at the awarding ceremony in Beijing, Dec. 17, 2018. [People's Daily Online/Du Mingming]
Chinese writer Du Jing was honored with the "Bene Merito" distinction award at the Polish Embassy in Beijing on Monday for her contributions in promoting mutual understandings and cultural exchanges between China and Poland.
Du also debuted her new book, Poland in Four Seasons, at the award ceremony. The book, published by China Book Press, was written to celebrate the 100th anniversary of Poland regaining its independence. Poland in Four Seasons is the author's third book about Polish people and culture, after she wrote and published I, Culture Poland and Amber Gdansk in 2012 and 2016 respectively.
"How do we get to know another country? There are many answers to this question, but the most convincing one is that you need to experience all four seasons there", said Wojciech Zajączkowski, Polish Ambassador to China, when delivering a speech at the ceremony.
He further explained that "the light, the colors of fields and forests, the way people dress, the physical experience of cold or heat, human behavior – it is all in the seasons."
Zajączkowski highly praised Du's work, saying that Poland in Four Seasons introduces Polish history, tradition and modernity, and is a book worth reading.
2018 marks the 100th anniversary of Poland regaining its independence. Having visited Poland many times, Du is engaged in the country's history, culture, politics and economy.
"Poland is not a big country, but a cultural power," she said. A country that was devastated and divided three times and disappeared on the world map for 123 years. What bolstered the country to stand up again? In Du's view, it all comes from the power of culture.
Du is also a journalist and photographer. Poland's historical cities impressed her with their beauty and tranquility. She interviewed Polish leaders, diplomats, artists and many other public figures and ordinary people, recording their stories with her pen and camera.
Awarded by the Polish Minister of Foreign Affairs, the "Bene Merito" honorary distinction is conferred upon the citizens of the Republic of Poland and foreign nationals in recognition of their merits in promoting Poland abroad.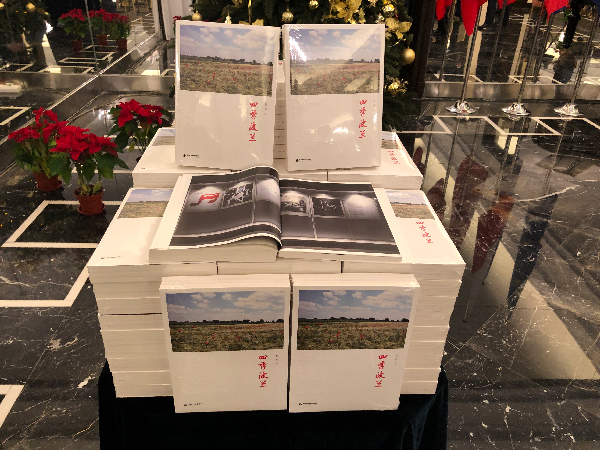 Du's new book, Poland in Four Seasons, debuts at the awarding ceremony in Beijing, Dec. 17, 2018. [People's Daily Online/Du Mingming]
(Source: People.cn)