Qijinnian [People.cn]
Female writer Qijinnian (a pen name) visited Guangzhou Foreign Studies University in south China's Guangdong Province to promote her fourth novel The Eye Phone Age which reflects on the light and shadow, warmth and indifference brought about by modern science and technology recently.
Her new book attracted readers' attention immediately as it has been five years since her last book was released.
Unlike the ordinary youth narrative, this novel is set in a future space called The Eye Phone Age. Hence the name of the book. It tells the story between the protagonist Su Tie and his friends who try hard to escape the so-called love from their parents, and constantly pursue their dreams for the future.
"My original intention of writing this book was to have some new breakthroughs," said Qijinnian.
Different from her previous styles, the new book can be classified as philosophical fiction. Based on the elements of fantasy, sociology and anthropology, she simulates the blueprint of a future world to explore modern technology in the newly-released novel.
The story is set in an ambiguous era characterized by genetic technology, artificial intelligence and social networking, where life is determined at birth, the gene supermarket prevails, the number of "likes" obtained in the virtual society can be converted into money, and on top of that, the formations of family, marriage and education are all unlike the conventional ones. The book is a conscientious attempt to deals with the reaction of human beings to changes in science and technology and how they resolve problems of life, shifting normal youth storytelling into a style where a far wider world is perceived with a broader vison
Talking about the changes in her new book, Qijinnian said, "In the past ten years, people have put many labels on me, such being as young and best-selling author. However, now I'd rather describe myself as an author who live consciously."
It was a new work that took five years to write, which aims be a farewell to youth, a reconciliation with one's very self, with one's mother, and with the world.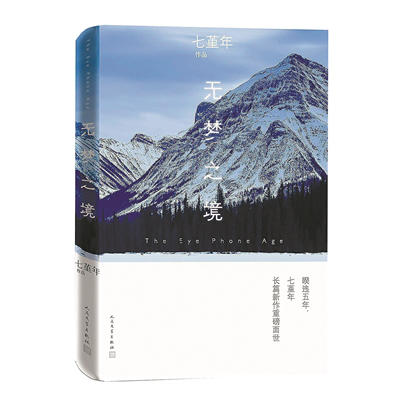 Qijinnian's new book The Eye Phone Age [People.cn]
(Source: People.cn/Translated and edited by Women of China)