Zheng Chunhua [baby.sina.com.cn]
Zheng Chunhua, 58, an author of books for children, said it is important for parents to listen to their children in the process of parenting, in a recent interview.
Zheng is also a scriptwriter whose work Big Head Son and Small Head Father has been adapted into a popular animation and won lots of acclaim from people across the country since it was released on State broadcaster China Central Television (CCTV) in 1995.
When talking about creating the children's work, Zheng said she got lots of inspiration from her husband and son. At that time, her son attended a boarding kindergarten and he could only go home at weekends. Therefore, she and her husband agreed to accompany their son when he came back home instead of dealing with their jobs.
It was a typical period for a Chinese family with an only child when she created the work. Aside from the role of parents, they had to play the role of brothers and sisters. Hence, she wrote mainly about how a father becomes a child's good company.
The inspiration for another of her works titled Little Biscuit and Apron Mom came from her daughter. In 2003, when her son was 16 years old, the 43-year-old woman gave birth to her daughter. At about six years old, the girl thought her mother preferred her brother to her as her mother had never written books for her.
After the birth of her daughter, Zheng stated she became a full-time mother and her daughter never left her. Her daughter is very outgoing and seems to have a sense of happiness since childhood. She usually sings when she gets up every morning, Zheng remarked.
At present, her son works in Germany and her daughter will go to study in England in September.
When asked about her parenting experience, the writer maintained she believes that listening to children is of great importance for parents, especially facing the unexpected or surprising things.
Meanwhile, she said she had never intentionally asked her children to attend hobbies or sports or forced them to take part in after-school classes.
Cover of the book 'Big Head Son and Small Head Father' [dangdang.com]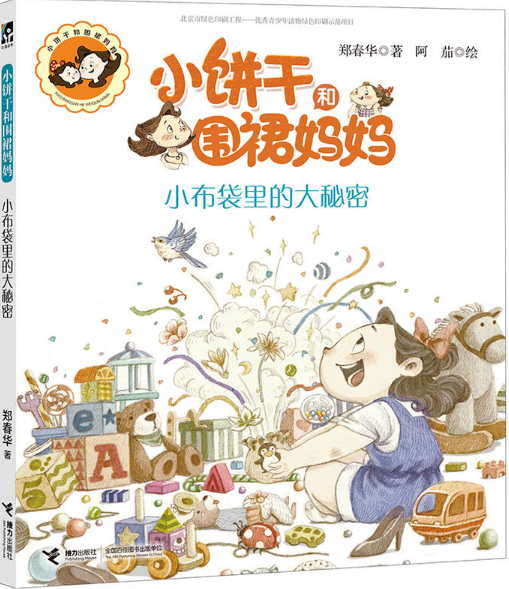 Cover of the book 'Little Biscuit and Apron Mom' [dangdang.com]
(Source: baby.sina.com.cn/Translated and edited by Women of China)