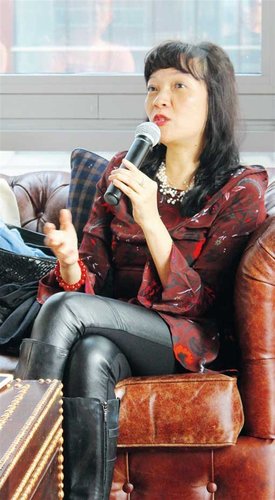 Chinese-British author Hong Ying shares with readers in Shanghai her perspectives on parenting and childhood. [Shanghai Daily]
For Chinese-British author Hong Ying Hong Ying, it's crucial to develop the interests and talents of children while they're young.
"Parents need to find out what their children really like and are good at. Don't force them, just inspire them," the renowned novelist said during a recent talk at the JIC Bookstore in Shanghai.
The Chongqing-born author who has written several novels had her works translated into more than 30 languages. Many of her books have also been adapted for the silver screen, including those from her "Shanghai Trilogy."
Hong's first novel was the autobiographical "Daughter of the River," which touches on her own experience as an illegitimate child and her tough upbringing.
Another of her novels, "K: The Art of Love," was awarded the Prize for Literature by the city of Rome in 2005. This book brought her international fame, but its content embroiled her in a series of lawsuits in China. One of these lawsuits involved obscenity charges over the book's sexual descriptions.
Following the birth of her daughter in 2007, Hong began to write from a mother's perspective in works such as "Good Children of the Flower," a sequel to her debut novel.
"I was a daughter in the 'Daughter of the River' period, but now I'm a mother. So as a mother, I wrote about a mom in this novel."
Tales of imagination
Hong read to her growing daughter from, among other titles, Chinese classics such as "The Classic of Mountains and Seas" and "Journey to the West." Before long, she was telling her own stories. Encouraged by her daughter's positive response, she began writing these tales down.
"And now, as a mother, I write about a daughter in my books," she said via WeChat.
Hong's children's titles include "The Girl from the French Fort," "The Legend of Liya" and "Mimidola the River Child."
"In these books, I talk about virtues like gratitude, sympathy, forgiveness, brevity, sacrifice, goodness and love. I hope kids will feel these virtues through the stories instead of being taught them.
"I created them on the basis of many Chinese fairy tales, and also merged ghosts and monsters into them. I wrote these books using my imagination and my understanding of this world, and, most importantly, with my love for my girl," she explained during her talk in Shanghai.
Hong also shared some of her ideas about parenthood and childhood education.
"Parents' words and actions are important to kids. For example, I like to bring a book into the washroom. When my daughter was small, she also brought a book there. She learned that!"
"And spend more time with your kids, especially before they are 12," she exhorted her audience. "You can accompany them while reading bedtime stories, having breakfast, traveling or watching movies.
"Life is a mystery. There are many switches concealed in a child's body and parents need to turn them on. You need to treat kids very tenderly, patiently and lovingly instead of in a strict way. This will make kids feel free and interested, after their switches are on," says Hong.
Xu Mingsong, publisher and professor at Shanghai University's College of Fine Arts, also spoke at the event.
He praised Hong's endeavors, saying, "It's good fortune for children if great authors can write children's books. They will broaden their visions and elevate their thoughts. I'm very pleased that Hong Ying could throw herself into this work. Of course, we should also thank her daughter."
Xu's words brought a smile to Hong's face. When talking about her daughter, Hong became noticeably more excited.
She said her daughter not only read her books, but also named some of them, like "The Legend of Liya." Hong admitted that her daughter chose this title without actually knowing what the word "legend" means.
Hong couldn't resist telling another anecdote about her daughter: "She likes painting very much, and paints quite well. When I picked Cherry Denman to illustrate my books, she felt sad and said 'I didn't get the job!' She thought I would choose her to be the illustrator!"
On the subject of raising a daughter specifically, Hong said: "Boys are like symphonies, while girls are like ensembles. The rebellious period for girls lasts longer than boys'. So skill is a must in education. For me, I will give many choices to my girl when she wants to do something. In the end, she will make the best choice."
Q: You studied in Shanghai for some time and said you're the right person to describe the city, and why do you describe Shanghai this way?
A: Shanghai is a city with a female character, and she matches me. More specifically, Shanghai is like a woman with the heart of man. She looks delicate and changeable, but actually she has a strong heart.
Q: Your "Shanghai Trilogy" books were bestsellers. Why did you write about Shanghai? Will you continue to write about the city?
A: To me, Shanghai is mysterious and stimulating. She is full of novel qualities. Of course, I will write more stories about the city.
Q: We know you have a happy family now, but you have suffered an arduous childhood. How can you always be optimistic?
A: I'm always optimistic and happy, ever since I was a little girl. I intentionally forgot all the bad things and was always thinking about good things — even the good things that did not exist. That's my way.
Q: People said you have changed from an adult writer to an author of children's books. Is that right?
A: No, I'm not changing. I am still writing books for adults. My newest book, "Mimidola the River Child," is not only a children's book, but a serious and fantastic tale suitable for both adults and kids. One thing is for sure though: Every time I write, it will be different from the previous time.
I like challenging myself.
Q: Besides your own books, could you recommend some bedtime stories for parents and kids?
A: Chinese classics like "The Classic of Mountains and Seas," "Journey to the West" and "Strange Stories from a Chinese Studio" are good choices. There are Western ones you can choose such as the Pippi Longstocking series, the Little Monster LiuLiu series, "The Neverending Story," and kids' books written by Italian writer Italo Calvino.
Q: What are you working on now? And what will you do next?
A: The thing I'm doing now will last until the end of next year ... but let me keep it a secret. After "Good Children of the Flower," I will write a third sequel to "Daughter of the River" which has been in my mind for many years.
And I will tell you something. The translator of my books, Nicholas Smith, who is also a British conductor and musician, is preparing our second musical play based on my book "The Legend of Liya."
(Source: Shanghai Daily)