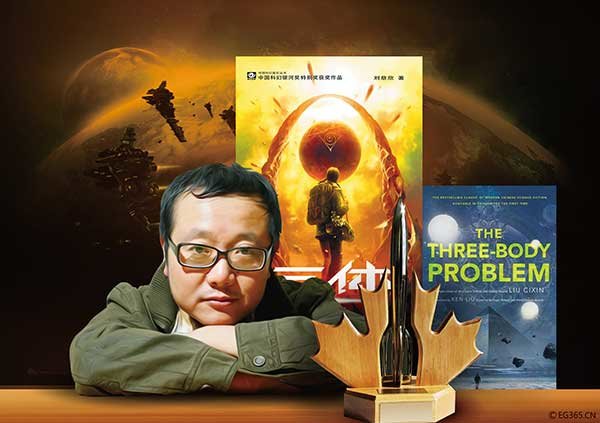 Chinese writer Liu Cixin is the first Asian author to win the Hugo Award. [China Daily]
Hugo winner Liu Cixin predicts that sci-fi books will have a growing market in China.
Surrounded by fans at a World Book Day event in Beijing last Saturday, Chinese sci-fi writer Liu Cixin attributed the success of his Three Body trilogy to chance.
The English edition of the first book of the trilogy - The Three-Body Problem - translated by Chinese-American sci-fi writer Ken Liu (unrelated to the author) in 2014, sold more than 100,000 copies worldwide, according to Liu Cixin.
Last year, that book also won Liu a Hugo Award, which is an annual global honor given to sci-fi and fantasy works.
But even so, Liu, 53, says sci-fi as a genre isn't mainstream in China.
"Readers of sci-fi novels in the country are still in a minority. That hasn't changed despite my winning. I'm talking about facts here, not showing my modesty."
While The Three-Body Problem has sold way more copies than other translated Chinese novels in the recent past, the numbers of new sci-fi books printed in China each year are on an average less than 10 percent of those in the United States.
That's also a reason why noir films such as 2001: A Space Odyssey, The Matrix, Gravity or Interstellar are made in Hollywood.
The sales of his novels outside the trilogy and books by his Chinese peers haven't risen either, says Liu.
Even his wife and daughter are not readers of his works, he jokes.
Besides, there are only a handful of known sci-fi writers in the country.
But by winning a top international award, Liu has debunked the theory that Chinese sci-fi writers lack imagination.
"The readership will mature in time and so will the market (in China)," says Liu, holding out hope.
Italian scientist and writer Giulio Prisco, who has read The Three-Body Problem in English, describes the book as a classic and "vintage space opera".
"Chinese writers are taking the lead in bold, imaginative science fiction (that is) able to ignite minds and energize whole generations," Prisco says.
Although he was born in Beijing, Liu's soldier-turned-miner father and schoolteacher mother moved the family to Yangquan, a small town in Shanxi province, when he was very young.
He grew up to become an engineer and was first posted at a State-run power plant.
British-born sci-fi master Arthur C. Clarke's works offered him his "first shock and enlightenment", and Liu began to write in his spare time in the late 1980s.
In 1999, Liu debuted as a writer after his short story was published in the Sci-fi World magazine. Then he published books and started winning prizes. He became a full-time author in 2014.
In April, Liu met with a small group of reporters in Beijing after he was named "writer of the year" by the China Writers Rich List, an annual celebration of the country's popular writers.
At the press interaction, Liu gave a wide variety of responses to questions, from comparing apocalypse in sci-fi writing to romance in literature, and why British physicist Stephen Hawking's plans of long-distance travel by a micro spacecraft has flaws in terms of energy.
Liu says while sci-fi is a niche category in China, it could contribute to mainstream literature.
At a symposium in southern China's Hainan University in April, literary critic Liu Fusheng said: "Liu's works have updated Chinese originality with revolutionary elements, by way of offering his solution to build a new understanding of ourselves and the changing world as well."
Liu Cixin says he sticks to his ideals while writing and he is willing to adjust to reader expectations.
"Only when I'm excited about an idea, do I start to write," he says.
The author has kept his personal life out of media spotlight, saying he occasionally watches movies.
He enjoys the quietness of Yangquan, where he still lives, but keeps track of developments in science and technology.
Liu Cixin is currently working on a new novel, but which he says may not surpass the popularity of the Three Body books. He is also writing the script for a film based on his trilogy.
Although he says Chinese filmmakers are largely unfamiliar with shooting sci-fi films, he doesn't mind being the "guinea pig".
"Frankly speaking, Hollywood big-name producers have never contacted me for a movie," he says.
"I can understand that because what they do is more of sci-fi with simple and single-lined themes, and mine is more complex, which may also increase the risks for their business model."
"But they are welcome to get in touch," he adds.
Liu Cixin is also willing to try space travel and "check on life" in outer space, if given a chance. "It has always been my dream."
Liu Cixin is recently named "writer of the year". [China Daily]
(Source: China Daily)