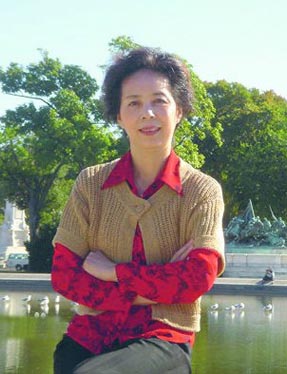 Fan Xiaoqing derives most of her inspiration from her hometown of Suzhou, east China's Jiangsu Province. [zgnt.net]


Since publishing her first short story in 1980, Fan Xiaoqing has devoted over 30 years to her literary career. A prolific and accomplished short fiction writer, she has written about 250 short stories, most of which were inspired by her hometown of Suzhou, east China's Jiangsu Province.

"For me, Suzhou is inseparable from my novels or short stories," said Fan. "I can't bear to be separated from this place."

One of Fan's typical novels is Descendants of the Gus, which tells the story of the Gu family, who have lived in Suzhou for generations.

"Although in recent years I no longer write such stories as Descendants of the Gus with such a clear setting and characters, the soul of the stories are still about Suzhou even though they may not be set in the city," she said.

In 2007, she won the fourth Luxun Literature Award, one of China's most prestigious literary awards.

Xiaoqing Style

Fan has devel0ped a signature style that is characterized by much detailed description and repetition. Although her readers love it, Fan herself is unconcerned about the popularity of her works, as she believes in art for art's sake.

"I would feel uncomfortable if I didn't write, especially short stories. So I am obsessed with it," she said.

Short stories account for a major part of Fan's works. It was not until 1987 that she published her first novel, Romantic Affairs in Merry Lane. While writing the novel, she also wrote some essays at the invitation of editors. Although they were widely praised, some of her friends told her that her real forte was short fiction.

According to Fan, she also enjoys writing essays because they afford her a way to reflect on her life and herself.

Breakthroughs and Changes

Fan has always sought for breakthroughs and changes in every one of her novels. In Female Public Servant, she depicted a woman's struggles for promotion in government work. In Astray and Heavenly Ink Stone, she experimented with writing detective stories. And in The City's Expressions and 100 Days' Sunlight, she observed the modernizing process of a Chinese city.

In 2011, she released Incense Attendant, which was written from the perspective of a boy who attends to the offerings for Buddha in a temple. In the novel, she wrote about many strange things such as Chinese couplets, rumors and ghosts. Fan said that this novel was inspired by her adolescent years growing up in a rural village.

"That place was surrounded by farms and mulberry trees. The trees and rivers seemed to dominate the view everywhere you looked, giving the village an utterly isolated feel. As a teenager, I loved to listen to the ghost stories told by the farmers. Walking to school alone, I always felt scared when remembering the stories. I'll always remember that feeling," said Fan.

Although on the surface the novel is about temples, people and ghosts, it is actually a deep and thoughtful reflection on the dramatic changes that have happened in Chinese society in the past few years. "People should respect everything, even spirits. Although times and life have changed, the respect should remain," Fan said.

Fan also used some of the dialects native to Suzhou in her book. She says that she greatly enjoyed using them and was sometimes moved to laughter, but also had to consider if her readers would understand it or not.

"The culture of a place has a significant impact on literature," said Fan. For her, that place is Suzhou, a city that continues to fascinate her and emerges in her work again and again.

(Source: workercn.cn and Xinhua/Translated and edited by womenofchina.cn)
Please understand that womenofchina.cn,a non-profit, information-communication website, cannot reach every writer before using articles and images. For copyright issues, please contact us by emailing: website@womenofchina.cn. The articles published and opinions expressed on this website represent the opinions of writers and are not necessarily shared by womenofchina.cn.