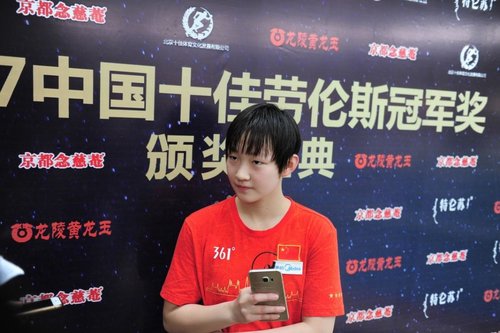 Li Bingjie [Sina Sports]
Teenage swimmer Li Bingjie has been nominated for the best new athlete at the much-anticipated China Top Ten Benefiting Laureus Sport For Good Awards 2017.
The 15-year-old is the youngest candidate for the prize which will be announced on December 20 in Beijing.
During the 17th FINA World Championships held in Hungary this July, she won two silver medals in the 800m freestyle and 4×200m freestyle relay events, respectively, and finished third in the 400m freestyle.
At the ensuing 13th Chinese National Games in September, Li harvested four gold medals in total.
Experiencing Setbacks
"It is recognition for me to be nominated for the award. The efforts I have made over the past many years did not go in vain," she said.
The past 12 months have been a "break out" year for Li.
Since April, she has captured various championships at the National Championships and the FINA Swimming World Cup whilst snapping up an Asian record and a junior world record in the 400m and 800m freestyle events.
Li marks her performance in this year at "90 out of 100."
Except for improvement in her swimming skills, Li said mental adjustment is the most important thing that has helped her achieve good competition results.
"I experienced the biggest setback in my life last year, but my coach and parents always encouraged me. With their help, I made an adjustment," she said.
In 2016, Li lost her chance to compete at the Rio Olympic Games.
"At that time, I was only 14 but my training level was already high. I failed to adjust my state of mind and my physical condition and lost the qualifications," she recalled.
"After this experience, I really grew up a lot."
In addition to psychological factors, high-quality and high-intensity training are also critical to her success.
Goal for 2018
As per her coach's arrangement, Li swims 15,000 meters every day and takes various targeted technical training.
She will soon leave for a plateau to take winter training, according to her coach.
"My primary goal for next year is to achieve good results at the Asian Games," Li said.
Li hopes to win the women's 400m, 800m and 1,500m freestyle events during the competition and try to do her best in the 200m freestyle match.
During this year's World Championships, Li's rivalry against U.S. swimmer Katie Ledecky left a deep impression on audiences.
Talking about Ledecky, Li frankly said she studied her opponent's techniques during their meeting.
"I found that her hands and legs did not coordinate as well as mine. But her arms have great strength," she said.
"During the World Championships, Ledecky's status is not good. Still I have much to do to catch up with her."
Nevertheless, Li is full of confidence in her future.
She is convinced that as long as she keeps on practicing, she will defeat the American athlete at the Tokyo 2020 Olympics.
Winning a gold at the Olympics is Li's biggest dream.
(Source: Sina Sports/Translated and edited by Women of China)