Chen Minghui shows her medal. [sohu.com]
A uni graduate from south China's Guangdong Province recently claimed the championship of the women's 60kg category during the 3rd World Competition of Wing Chun held in the province.
Chen Minghui started learning the ancient, traditional martial art whilst at high school, and later in 2016 graduated from the College of Economics and Management, South China Agricultural University.
"In the very beginning, I just learned some easy movements from a senior student. The postures he taught me came from Wing Chun," she said.
She recalled that taking up Wing Chun with such vigor was entirely out of her own enthusiasm.
"It was a love developed at first sight," she added.
Whilst in further education, she had more time to hone her fighting skills. Her coach surnamed Fu played multiple roles in Chen's kung fu journey – as a teacher, a stand-in elder brother and a friend.
"We put no special emphasis on our master-apprentice relationship," she said.
"I prefer calling him 'Lao Fu' [using a form of name which shows deference to someone older than you]."
In addition to giving instructions about corresponding professional skills, Fu didn't set too-high requirements for Chen but guided her to make spontaneous explorations in a timely way.
Moreover, Fu encouraged her to try other varieties of martial arts and to form her own concepts of the practice.
Refreshing memories of her time at school, Chen said she missed her training sessions most, which she would then take three times a week.
"We learned wrestling Tuesday night, Wing Chun Thursday night, and both on Saturday afternoon. In general, each training class took two hours," she explained.
Driven by great enthusiasm, Chen often practiced from 2-7 p.m. at weekends.
"However toilsome physical training was, I felt quite happy and content because I was doing what I love," she added.
According to Chen, this has been her second participation in the World Competition of Wing Chun, held each November by Foshan Sports Federation in Shishan Township in the city of Foshan, Guangdong.
In 2015, Chen took part in the contest with a relaxed mental state due to her attitude of "just having a try."
To prepare for this year's matches, she underwent a month-long intensive training at a boxing club, where the strange environment brought her great pressure.
"In the past, my former coach and fellow apprentices were around me. But now I had to undertake everything on my own. It was up to me if I performed well and whether I was happy," she said.
During that period, Chen went to the office in the daytime and took training after work. She felt sore all over her body every day, she said. Exhausted, she would fall asleep the moment she got home.
A tenacious woman, though, she stuck to the punishing schedule until the opening of the competition.
This year, she registered for the women's 59-60kg category. She said she was quite relaxed before getting on stage, but her opponent left a deep impression on her almost immediately.
"My rival was one head taller than me and her legs were quite long. It seemed that she had more advantages," she recalled.
Despite that, Chen was not scared but coped calmly. After three rounds, the judge raised up Chen's hand as the eventual victor.
"At that moment, I was extremely excited," she said.
So far, Chen has engaged in the sport for five years, during which minor injuries were impossible to avoid. Once, during a casual match with her fellow apprentice, she received a punch to her eye.
"Even four layers of makeup couldn't hide the bruise," she recalled.
When speaking about the minor accident, Chen said that people get injured doing any sport, and there is no need to exaggerate the damage brought about by it.
She hopes that more young people can join in this martial art and feel the positive changes that it brings.
Chen Minghui (L) takes part in a training session. [chinairn.com]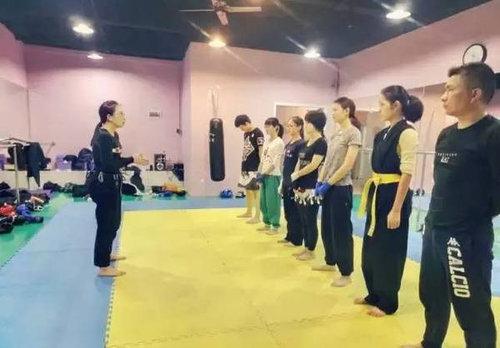 Chen Minghui (L) shares her experience in martial arts at her Alma Mater after winning the contest. [sohu.com]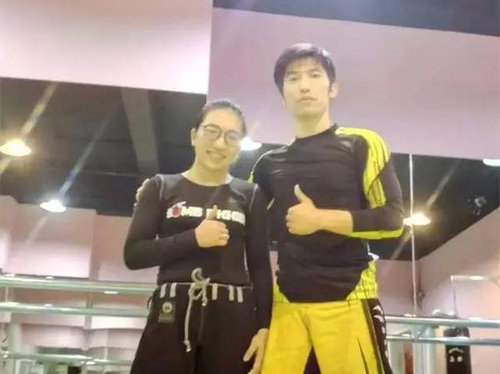 Chen Minghui (L) at her Alma Mater [sohu.com]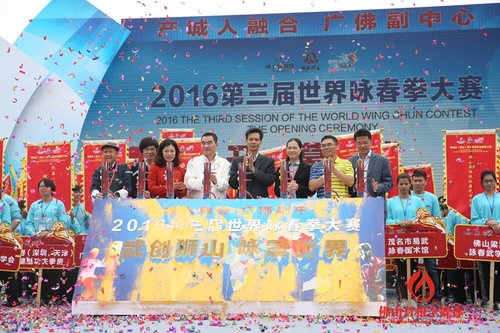 The opening ceremony of the 3rd World Competition of Wing Chun [fsonline.com.cn]
(Source: Guangzhou Daily/Translated and edited by Women of China)