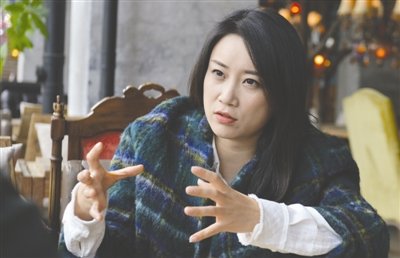 Amateur athlete Zhang Fan gives an interview to Chengdu Economic Daily. [e.chengdu.cn]
A 36-year-old working mom from the city of Chengdu in southwest China's Sichuan Province has taken part in 20 marathons at home and abroad over the past year.
Amateur athlete Zhang Fan runs almost every weekend, and has taken part in competitions at home in Beijing, Shanghai, Chongqing and Heilongjiang, and overseas in Nagoya, London, Chicago, France and even the Antarctic.
"I feel like I have circled the earth all this time," she said.
When it comes to her recent marathon experience in Antarctica, she said: "I joined an event in the North Pole in 2015, so I thought 'Why not a run at the other end?'"
In November, Zhang came third in the women's race with a time of around six hours, among some 50 fellow runners in an environment where the temperature dropped to minus 20 degree Celsius.
"It's quite challenging to run in the Antarctic. Aside from cold, the road is uneven. The snow made me felt as if I was running on a beach," she recalled. "I had to constantly find a balancing point."
Though already well known in Chengdu's running circle, Zhang actually began the sport only three years ago.
"At that time, I had just given birth to my second child and realized that I'd gained weight. So like many people, I started running to slim down," she continued.
"It was quite suffering for me at the beginning. I couldn't even finish 3 kilometers. I increased the distance gradually and first took part in a marathon in 2015."
Now running has become a part of Zhang's life. For her, marathons are valuable experiences, which have helped her develop a healthy physique and brought her new friends.
"Running is just a process of traveling and looking at the world," she concluded.
Amateur athlete Zhang Fan takes part in a marathon in Antarctica in November. [sports.sina.com.cn]
(Source: e.chengdu.cn/Translated and edited by Women of China)