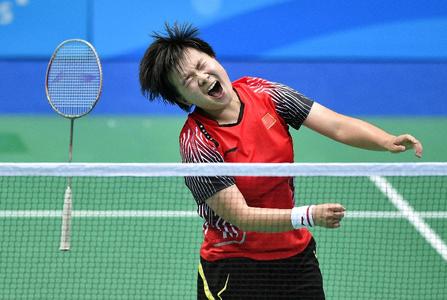 He Bingjiao celebrates her victory against Akane Yamaguchi of Japan in the women's badminton final at the 2nd Youth Olympic Games in Nanjing, the capital city of Jiangsu, on August 22nd, 2014. [Xinhua]
He Bingjiao, 16, upset world junior No. 1 Akane Yamaguchi of Japan in the women's badminton event to become the first athlete from Suzhou City, east China's Jiangsu Province, to win a gold medal at the Youth Olympic Games in Nanjing, the capital city of Jiangsu, on August 22, 2014.
The victory in Nanjing marks He successfully avenging her defeat to the same opponent in the Junior World Championships last April. She is now poised to become China's next No. 1 women's badminton player and has her eye set on a gold medal at the 2016 Olympic Games in Brazil.
He began to receive intensive badminton training at the Suzhou Junior Sports School, when she was only 7 years old. Five years later, she was sent to study in Nanjing and for tougher training there.
She recalled it was very hard to adjust to the separation from her parents in the beginning and sometimes she would cry because she was homesick. However, she finally overcame her difficulties and made a remarkable improvement in her badminton performance.
He became known overnight among badminton circles when she won her first medal at the 12th National Games held in Shenyang, the capital city of northeast China's Liaoning Province, last August and September. She has since won a series of first prizes in national junior badminton competitions since 2012.
He had to face her rival Yamaguchi, a rising badminton star in Japan, in the Youth Olympics badminton final. Yamaguchi also has great talent for badminton and had defeated He twice before their meeting in Nanjing
He's triumph over her Japanese opponent didn't come easily.
He made a great effort to study Yamaguchi's play in preparation for their Nanjing Youth Olympics finals encounter. Before the event, she discussed with her coach Zhu Weilun about how to avoid mistakes and eventually claim the gold medal.
At the very beginning of the finals, He made several mistakes and let Yamaguchi score freely. In consequence, He lost the first round 22-24. However, she quickly readjusted and took control firmly of the event's pace in the second round, winning it in 23-21 after a tenacious struggle.
In the last round, He smashed her way to a 21-17 win over Yamaguchi.
Previously at the Games, He had won a bronze medal with her partner Spd Angoda Vidanalage of Sri Lanka over Qin Jingjing of China and Mek Narongrit of Thailand in the badminton mixed doubles at the Nanjing Sports Institute Gymnasium.
He is expected to join the ranks of the excellent players in the national team after the conclusion of the Youth Olympics on August 28.
He Qingsheng, He's father, visited Nanjing and watched He's brilliant performance in the finals event. He said he was satisfied with his daughter's performance against Yamaguchi and hoped she would win gold at the 2016 Olympic Games.