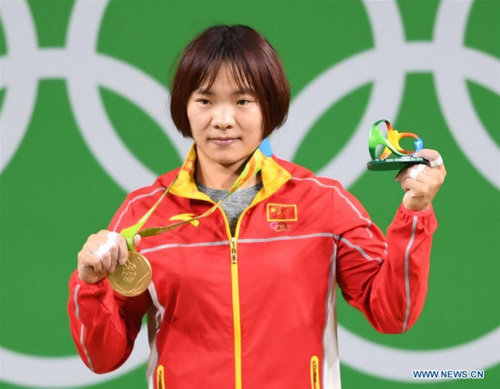 Xiang Yanmei celebrates during the awarding ceremony for the women's 69kg weightlifting final at the 2016 Rio Olympic Games in Rio de Janeiro, Brazil, on August 10. [Xinhua/Cheng Min]
Chinese athlete Xiang Yanmei, 24, proved herself to the world on August 10 by claiming gold during the women's 69kg weightlifting final in Rio.
Childhood Life
Xiang, from Baojing County in central China's Hunan Province, was always clinging to her mom when she was a child. She would even burst into tears if the woman walked away.
To reduce Xiang's dependence upon her mother while also helping the girl to raise her fitness, Xiang's father then sent her to a local sports school and began her training in weightlifting at the age of 11.
Two weeks later, unable to bear the sight of their daughter suffering from strain and physical hardships, Xiang's parents tried to get her to stop.
But, enjoying a happy time with other trainees at the weightlifting gymnasium, Xiang was unwilling to leave. This was where Xiang set off on a path to glory.
Rising with Great Momentum
Before Rio, Xiang had already claimed titles at many major weightlifting events, including the World Championships held in 2013 and 2015, and the Asian Games in 2014.
In addition, Xiang has won six gold medals at the National Weightlifting Championships since 2008. However, she had not won an Olympic gold before, which was one of her biggest regrets.
Before the 2012 London Olympics, China gave up its participation in some of the weightlifting events. The news came as a bitter blow to Xiang, who had planned to realize her ambition at the event.
Nevertheless, Xiang did not fall into depression but practiced even harder, determined to capture a championship in the next Olympics.
In the competitions following 2012, Xiang performed brilliantly, winning three first places including the snatch, clean and jerk, and got the top total score during several matches.
Xiang was fighting hard for her Olympic dream.
Realizing Olympic Dream
On August 10 this month, Xiang finally achieved success at an Olympic venue for the first time in her life, increasing the total gold tally of China to nine.
During the women's 69kg weightlifting final, the athlete managed 116kg in the snatch, and then lifted 145kg in the clean and jerk to end the competition with a total of 261kg.
When Xiang made her third attempt in the snatch to put the 118kg barbell above her head, the barbell fell awkwardly on her head, rolled off her neck and dropped to the floor.
The breathtaking scene made audiences gasp in alarm.
"I saw little stars all of a sudden. I got hurt a little bit; I felt hurt when I knocked my head," Xiang said.
Despite the thrill, Xiang still took the lead and kept the momentum to jerk 145kg.
"I didn't think about it at all during the jerk, so it didn't affect my performance," she added.
After succeeding in the 145kg, Xiang also tried the 147kg, but failed.
"Xiang is not in a good state recently. Yet, she still challenged the bigger weight after her win had already been secured. It is a great quality for athletes," said Wang Guoxin, a coach from the national weightlifting team.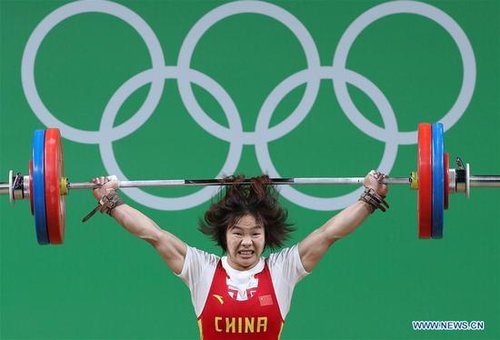 Xiang Yanmei of China competes during the women's 69KG weightlifting group A final at the 2016 Rio Olympic Games in Rio de Janeiro, Brazil, on August 10. [Xinhua/Li Ming]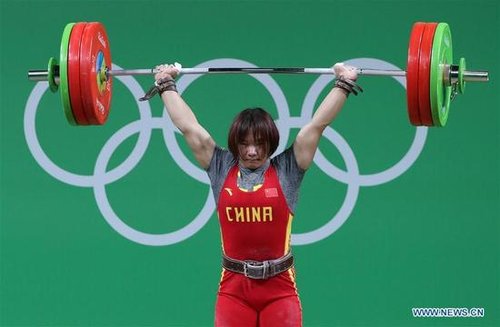 Xiang Yanmei of China competes during the women's 69KG weightlifting group A final at the 2016 Rio Olympic Games in Rio de Janeiro, Brazil, on August 10. [Xinhua/Li Ming]
(Source: gmw.cn/Translated and edited by Women of China)