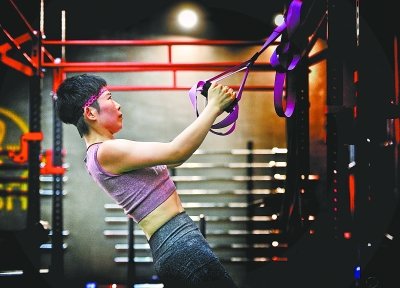 Zhang Ting, a female nurse in central China's Hubei Province, likes sports and car stunts. [whwb.cjn.cn]
A female nurse in central China's Hubei Province, who likes sports and car stunts, lives a happy and full life and has influenced her colleagues and patients in staying healthy.
Zhang Ting, a nurse at a hospital in Wuhan, capital city of Hubei, obtained her driver's license in 2007 and got into seven reported traffic accidents or car clash in her first year.
Because of her poor driving record, she was even rejected as high risk by several companies when she was trying to find car insurance the next year.  
Instead of cowering back, she was determined to improve her driving by practicing as much as possible. One year later, she became a skilled driver.
Zhang registered secretly when she learned from friends that a professional institution was offering car stunt training classes in Wuhan in early 2016. She became addicted to car stunts after only one week of training.
Zhang has hurt herself a number of times during the process of practicing, but can do many car stunts now after two years of training.
Zhang is an open-minded and brave woman. She loves all kinds of sports and has attempted bungee jumping, rock climbing, diving, and paragliding.
She started sports six years ago with an initial goal of losing weight and fitness has since become an integral part of her life.
Completing stunts requires extraordinarily high level of physical strength. She began to increase her fitness intensity when she realized in her first practice that her physical strength was far from reaching the standard as required. Yet, right now, after much practice, she can easily lift a 60kg barbell.
Having to juggle her work and family, often she has to work things out for herself late in the evening or early in the morning.
She would travel to the training base to take part in training at the weekend as long as she is free.
Although she is now a sophisticated driver, she never drives at high speeds in downtown areas.
Zhang has been a nurse for over ten years. She made many errors and mistakes when she first began work was always criticized by the head nurse at the time. However, after her professional training, she grew into a professional nurse and is now often praised at work.
Under her leadership, many of her colleagues and patients have begun to take much interest in sports. A director even dropped his weight from 80kg to 65kg through doing sports.
Many nurses who wish to lose weight or increase their muscle mass have also asked for her advice. In addition to answering patients' questions about diseases through Wechat, she is also keen to spread sports concepts, encouraging people to do more exercise.
Zhang says that only when people work hard can they can achieve their dreams, and she herself will continue to pursue her dream.
(Source: whwb.cjn.cn/ Translated and edited by Women of China)