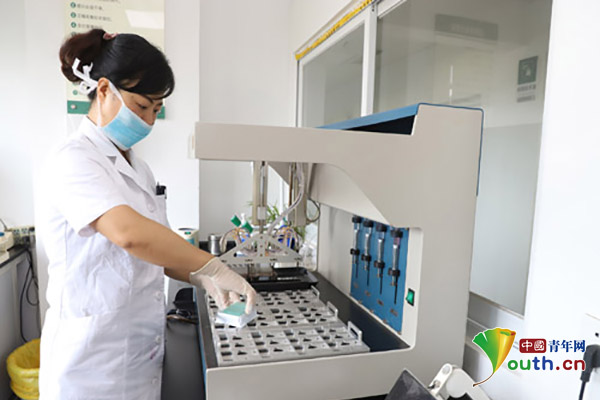 Zhang works in her hospital. [Youth.cn]
Zhang Nian, a pathology technician at the Armed Police Hospital in Southwest China's Sichuan Province, recently shared her experiences of supporting her husband and family for the past decade.
Born in Renshou County of Sichuan, Zhang got to know Guo Jianjun, who worked in the urological surgery department of the same hospital, after her graduation in 2002.
They got married a year later.
The most typical routine work for Zhang is to examine laboratory samples of body tissues, which is an important way of gathering evidence for doctors to judge many diseases.
According to her, pathological examination is very important. "The report, issued by the pathology department, can affect the judgment of clinicians and even the final treatment results of patients. The accuracy of a pathological report depends largely on the operation of the pathological technologists," Zhang introduced.
However, pathological technologists are often regarded as hidden heroes, with their work rarely being noticed.
When referring to this, Zhang makes no complaints. In fact, whether in work or in family, she is the one who has been working behind the scene fulfilling her duties humbly.
"Though my husband and I are working at the same hospital, rarely do we meet each other in the workplace. He has to perform 16 surgeries at most a day, and comes back home late," Zhang explained.
Duty First 
In May 2004, Zhang was about to give birth, but a medical inspection found the infant's neck twisted with the umbilical cord.
Zhang was depressed when she saw other pregnant women had been carefully looked after by their husbands, while her husband was not available.
Yet, she consoled her father-in-law, saying supportively, "His daily workload is heavier, and the soldiers are more in need of him. We should not distract him."
When Guo came to her side after work, she was being transformed to to have a cesarean delivery. Just then, her husband received a phone call which requested him to take over an emergency operation for a solider with renal injury. Without hesitation, Guo rushed to perform the operation, leaving Zhang behind in tears.
Fortunately, the soldier's operation was successful. By the time Guo came back to his wife's ward, totally exhausted, their baby has already been ushered into the world, sleeping beside the new mother.
Disaster Rescue
In May 2008, a major earthquake struck Wenchuan county, Sichuan. Zhang felt distressed when she saw the soaring casualties in the disaster-stricken areas.
Thus she encouraged her husband to participate in the earthquake relief work.
Guo, together with the medical team, worked for 80 days on end in Wenchuan, fully completing the rescue task.
In April 2011, Guo was promoted to director of the urology department, which meant a much heavier workload, and consequently their kid's education was totally dependent on Zhang.
Although she sometimes has some grudges, Zhang said she never regretted being a military wife.
"Since the day I married my husband, I have been mentally prepared," Zhang said.
For Zhang, the role of a military wife is not just a fame, but also a spirit and a force, which can support her at all times, whatever difficulties she might encounter.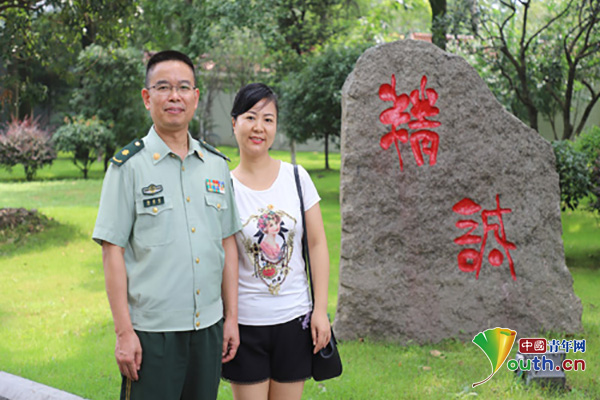 Zhang and her husband [Youth.cn]
(Source: Youth.cn/Translated and edited by Women of China)