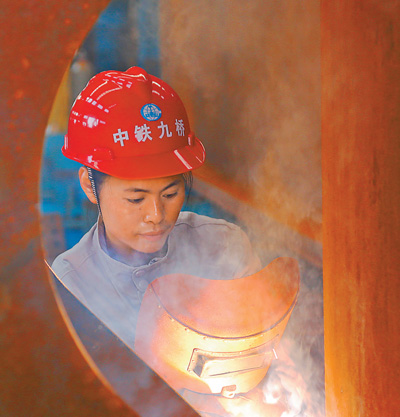 Wang Zhongmei engages in her welding work in China Railway Jiujiang Bridge Engineering Company.[Xinhua]
A talented female welder who works for China Railway Jiujiang Bridge Engineering Company has completed preliminary tests on over 40 world-class bridges during the course of her career.
"The weld seam is the life of the bridge," said Wang Zhongmei, who is now the chief welder at her firm.
Wang has conducted tests on many famous bridges such as Nanjing Dashengguan Yangtze River Bridge that is on the route from Beijing to Shanghai, and Tongling Yangtze River Bridge on the high speed line from Beijing to Fuzhou.
Wang graduated from Wuhan Railway Bridge Vocational College. Recalling the first time she practiced, she said, "There were hot steel bars, splashing sparks and sultry smells. My eyes had swollen by the time I went home."
At beginning, her father, who is also a welder, worried that Wang could not do the job, but Wang insisted and gradually became the company's chief welder.
Wang is strict with her profession, and the weld seams she has made are almost always first level without defects.
She said, "What we do is not just welding but taking responsibility for life."
In 2005, Wang's company constructed the Sidu River Bridge along the Shanghai-Chongqing high-speed railway.
According to the design, the bridge's steel beams have many welds which require the use of advanced technology, of which even many senior workers are not competent for the work.
Wang, who had worked only four years at that time, volunteered for the job. As a result, over 30 sets of high-penetration welds made by her all passed qualification.
Throughout her career, Wang has achieved over a dozen key technological innovations.
The one-sided groove welding method she developed is named after her and is widely used in bridges in China today.
In the manufacture of steel beams for the Poyang Lake Bridge, she also innovatively used automatic welding instead of carbon dioxide gas shielded welding to solve the problem of low qualification rates.
She has been in charge of an Expert Training Studio and a Model Innovation Studio since 2016, which have organized over 20 new material tests and welding activities for over 1,600 people.
"The elder generation created the glory of Chinese workers. The important task was handed down to our generation and we must do better," Wang says.
(Source: Women of China/Translated and edited by Women of China)