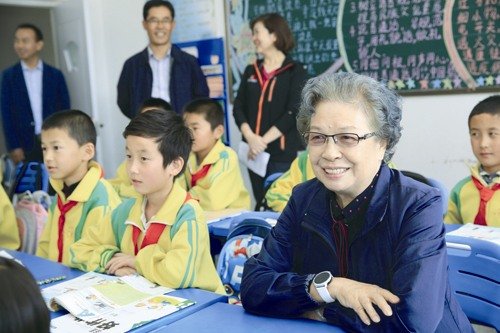 Tao Siliang (R) visits children from northwest China's Gansu Province who have received help from Female Mayor Aier Charity Fund. [China Women's News]
Tao Siliang, 77, the daughter of Tao Zhu, former Chinese vice-premier, has dedicated herself to supporting charity for nearly three decades.
Passion
"My father wanted me to learn a skill, so I went to medical school," Tao said. Having been engaged in medical work for over 20 years, Tao has played a lead role in establishing the Nephrology Department at the hospital where she worked.
When Tao was 46 years old, she was transferred to work at the Intellectual Bureau of the United Front Work Department of the Communist Party of China (CPC) Central Committee in 1987, where she made friends with many knowledgeable people.
"I cannot do a lot of things alone. My colleagues and old friends have contributed efforts to promoting public welfare affairs," said Tao, and she has emphasized her team and friends' assistance to her more than once.
In 1991, Tao was arranged to take charge of China Association of Mayors while organizing China Medicine Foundation and regrouping the Audiology Development Foundation of China. Since then, Tao has started throwing herself into charity.
In the early 1990s, Tao launched a charity initiative to prevent iodine deficiency disorders (IDD) and carried out investigations in remote rural villages in north China's Inner Mongolia Autonomous Region and northwest China's Xinjiang Uygur Autonomous Region, along with her colleagues. Meanwhile, they made efforts to popularize knowledge about IDD and put forward proposals to the Chinese People's Political Consultative Conference (CPPCC).
With unremitting efforts from her and other people, the government has implemented a law on eating iodized salt nationwide since October 1994 and the problem of IDD has thus been controlled effectively.
"It is the first project that I have done in a comprehensive and systematic way. I suffered many hardships at that time." When she saw that the problem was solved, Tao said that everything was worthwhile and she was happy.
Helping Hearing-impaired Children
In her 60s, Tao served as president of the Audiology Development Foundation of China.
"There are about 27 million hearing-impaired people in China, of whom 800,000 are under the age of 7. If given hearing aids and voice training before school age, they can completely integrate into society," Tao stressed. "It is an urgent salvation and is quite necessary!"
Therefore, a large-scale activity helping impoverished children with hearing impairments was carried out in many poverty-stricken areas across the country. The activity involved providing free audiology and imaging check-ups while providing cochlear implant surgery to those seriously hearing-impaired children and offering hearing aids to those in need.
Meanwhile, Tao also sponsored the Female Mayor Aier Charity Fund to pool resources from government, charities, medical institutions and enterprises to strengthen the prevention of hearing problems and aid to disadvantaged children.
The activity has received great support from nine ministries and commissions of the CPC Central Committee and has promoted the launch of a Plan on Helping Hearing-impaired Children Under the Age 7 in China with a fund of 400 million yuan (U.S.$ 60 million) allocated by the government.
After making steady achievements in helping children with hearing defects, Tao turned her sights to helping poverty-stricken groups and senior people with such defects.
In 2012, Tao signed a 10-year strategic cooperation agreement with the American Starkey Hearing Foundation to bring in a project which can help provide customized hearing aids to around 6,000 impoverished hearing-impaired people in China every year.
When recalling the transnational action, Tao remarked that she previously did not know that a foreign medical product must gone through many examinations and procedures before it enters in China. Despite this, she was determined to promote the project and tried her best to solve the problems one by one.
Since 2012, the project has donated around 58,400 hearing aids and helped over 30,200 impoverished hearing-impaired people across China. In addition, the project has been listed as one of the 10 projects that benefit people in southwest China's Yunnan Province and northwest China's Ningxia Hui Autonomous Region and Gansu Province.
Aiding Children with Cerebral Palsy
Last year, Tao took the lead in establishing the Aier Charity Fund to give assistance to children with cerebral palsy.
"The intelligence of children with cerebral palsy is generally normal, but there is an obstacle in their behavior. The support of this group needs a large amount of money and a long time, but the effect is not obvious. Hence, few foundations are willing to get involved."
Tao believes that to help a child with cerebral palsy is to save a family. She appealed to set up a special fund to start a scheme to help this vulnerable group.
The scheme was launched in June this year in southwest China's Tibet Autonomous Region and Xinjiang and is expected to fund some 200 children with such illness.
To date, over 70 impoverished children with cerebral palsy have received surgeries. "Parents generally said that the operation is successful," said the leader of the scheme.
"Cerebral palsy can be cured as long as the patients receive operation and rehabilitation. They can then take care of themselves," Tao said. She suggested parents learn more about the illness and not abandon their children.
She also hoped that the foundation could raise more money to give a helping hand to such children as soon as possible. "I hope that the project can attract the attention of the government quickly so that all children with cerebral palsy can receive timely and regular support."
Pleasure
When someone asked Tao about her intention to participate in public welfare undertakings, Tao said she was greatly influenced by her parents whose belief was to change the backward conditions of China at that time and help common people lead a happy life. For her, she has a natural affection for vulnerable groups and she believes that it is her mission to do something positive for them.
Under the influence of Tao, her daughter, Tao Ye, has become a volunteer and her granddaughter often takes part in various charitable activities.
With the progress of society, the senior woman believes that China's public welfare undertakings have fast developed and people's public welfare awareness has been constantly strengthened.
(Source: China Women's News/Translated and edited by Women of China)