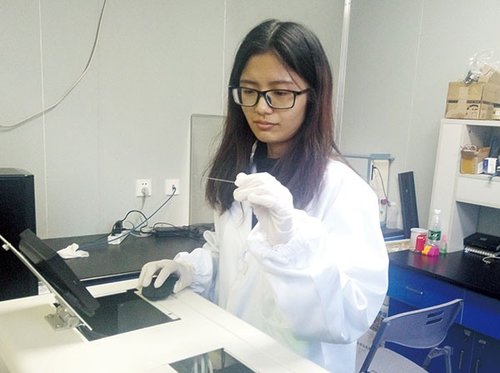 Chang Ning conducts an experiment in her lab. [China Women's News/Ru Xijia]
Youthful researcher Chang Ning recently won a national prize after her team MxHealth created a detector to help test for markers in the early diagnosis of cancer.
Chang, 22, is a doctoral student at Southeast University majoring in biomedical engineering.
Earlier this year, she joined the 3rd China College Students' "Internet Plus" Innovation and Entrepreneurship Competition with her nine teammates.
On October 10, the result came out that the detector they created earned them the bronze in the competition.
Chang said the machine takes about 10 minutes to test some 50 microlitres of blood.
Staff from the Science Park of the Southeast University also invited them to join the center and offered to give them professional startup guidance.
Furthermore, many companies are interested in their invention and more than 20 have expressed their intention to cooperate.
Chang said, "Apart from capital, we also need to work hard to gain the recognition from the medical industry if we can take our machine into mass production."
Chang hopes the detector can offer efficient services as fast as a routine blood test or a blood glucose test.
In the future, she would continue to focus on promoting the technology that brings her profession into full play.
(Source: China Women's News/Translated and edited by Women of China)