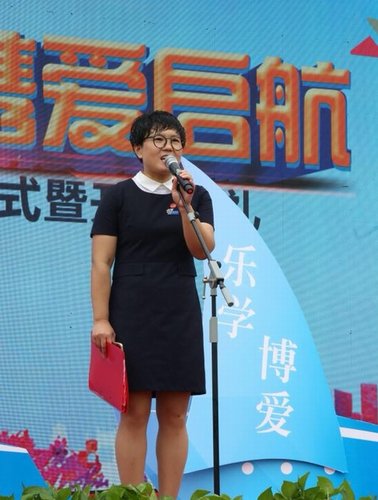 Wang Zhiping [cnfpzz.com]
A teacher from central China's Hunan Province has been offering free mental health support to children in a local mountainous ethnic Miao village for 11 years.
Wang Zhiping, 29, is vice-president and psychological counselor at a primary school in the Yuhu District of Xiangtan, a city in the province.
In 2006, Wang went to the Damen Mountains as a volunteer teacher for the first time, along with a team from Hunan Normal University.
"I joined the team merely out of curiosity. But after I returned home, the expressions in the eyes of the local children there always popped up in my mind," she recalled.
In the summer vacation of 2007, Wang went to the rural area again. In addition to giving classes, she also shared her childhood stories with the youngsters.
"They seldom responded to me. Their mind was closed and they had difficulties with communication," she told her former colleague Shi Lingzhi upon returning from her second visit.
"Why not try psychological treatment?" Shi suggested.
Therefore, they founded Wings of Heart, a studio devoted to solving children and teenagers' mental problems, which gradually drew on the help of no less than 11 qualified psychological counselors.
Those working at the studio provide children nearby with free psychological counseling and treatment whilst paying "metal relief visits" to the Damen Mountains during summer vocations.
"Counselors in this studio are all volunteers. They work in summer and winter breaks and during the holidays. All their expenses are paid by themselves," Wang added.
In the past 11 years, they have spent over 1 million yuan (U.S.$ 150,918) helping rural children and studying advanced mental health therapies.
In 2016, Wang visited the village for the 11th time. When her team left, the members brought along over 50 drawings of local children and held an exhibition and charity sale activity, raising 33,366 yuan (U.S.$ 5,035) in total.
Now, out of the 11 children they regularly cared for, three were admitted by universities and vocational schools. The others also have become much more open and friendly.
"This is just the reason for our persistent effort," Wang said.
(Source: cnfpzz.com/Translated and edited by Women of China)