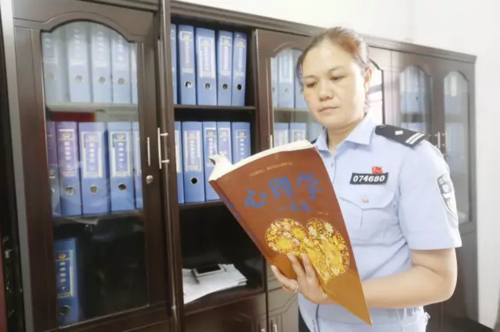 Guo Juan reads a psychology book. [yudu.ccoo.cn]
Guo Juan, a female police officer from Yudu County, southeast China's Jiangxi Province, has dedicated herself to guaranteeing on-campus security and helping troubled school kids for many years.
In 2009, Guo was appointed to be in charge of the campuses of 18 primary and middle schools with nearly 100,000 students.
It was the first time someone had ever been given such a task. She felt a huge amount of pressure as she was the only officer in her division.
Furthermore, many schools refused to build police quarters on campus in fear of being considered as an epicenter for trouble.
Finally, Yudu No.2 Middle School agreed to set up a work place on their premises. To make things better, three police officers were dispatched to join Guo soon after.
Solving Bike Thieves
To learn more about what needed to be done, Guo visited schools as wells as surrounding shops and streets one by one.
When the school-based police station was in its infancy, bikes were stolen frequently.
After days of investigation, Guo found out the sticking points were the shortage of bike parking spaces and loose bicycle management.
As a result, she advised the school to hire more correspondent managers and construct new shelters for numbered bicycles.
Since then, few bikes were stolen.
Conquering Campus Bullying
To fix campus bullying, Guo set up an information database of over 500,000 messages, including photos and fingerprints from suspects.
To collect data, she patrolled school gates to speak to suspects.
Thanks to her database, the police uncovered over 360 cases and arrested more than 600 suspects.
"Guo is responsible and smart. She has helped us solve many recurring problems in our school,"said a school principal.
To better secure the campus, Guo advocated students' parent volunteers to carry out patrols.
At the beginning of this year, the local "school guard" teams consisted of over 300 parents.
Offering Emotional Support
Guo has been widely praised by students in the county as she is always on hand to support students emotionally.
To better understand youngsters, Guo has read many psychology books and taken professional courses and exams.
Guo has given 14 lectures to over 50,000 students to help relieve their stress. She has also rehabilitated 478 young offenders from a life of crime.
(Source: China Women's News/Translated and edited by Women of China)