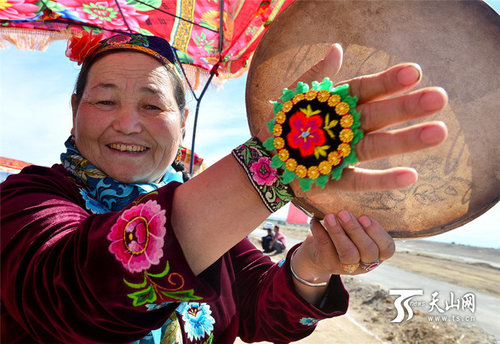 Ruzewanihan Kurban hits the drum. [by ts.cn]
A 65-year-old farmer from northwest China's Xinjiang Uygur Autonomous Region has made more than 200 drawings to publicize the policies of the Communist Party of China (CPC) over the past decades.
Ruzewanihan Kurban from the region's Xiamaya Township in Yiwu County is a grassroots publicist for government directives.
"Since the 2nd central work conference on the development and stability of Xinjiang was convened three years ago in Beijing, the government has formulated more favorable policies for us and the life of people from all ethnic groups in Xinjiang get better and better," said Ruzewanihan.
"I can't write. I hope my paintings can express my deep sense of gratitude to the Party and the government and make its policies widely known to the public."
Showing Xinjiang's Fast Development through Paintings
At Ruzewanihan's home, there is a special room where each wall is thickly covered with vivid crayon paintings and exquisite embroideries depicting scenes of village life.
With no more than primary school education, Ruzewanihan learned drawing on her own, driven by a great interest, using simply a patch of earth as paper and twigs as pencils.
Later, she joined a training course on painting organized for farmers in her county. Thanks to her hard work, her proficiency improved constantly.
To let more people see the positive changes of Xiamaya Township, she always captured what she saw, heard, felt and thought over the past many decades in her paintings and embroidery, and she held exhibitions at her home.
Hearing about her efforts, villagers made visits to her house one after another.
Her paintings reflect the rapid development of her hometown and the solidarity among different ethnic groups as well as how locals shook off poverty through diligence.
"I'm an orphan and grew up under the care of the Party," she said.
"The Party and the government care for every ethnicity in Xinjiang. We live a happier life and great changes have been taking place here."
The old lady pointed at the contents of one of her paintings called Now and the Past, saying: "Look. These houses made with mud were where we lived in the past, while this beautiful building [built by the government to improve local people's living conditions] is where we live now."
"Our life is getting better and better," she added.
Showing Gratitude to the Party Through Songs
In addition to painting and embroidery, Ruzewanihan is also an inheritor of Yiwu Muqam, a musical genre of the region. To date, she has trained 15 successors in her village.
In addition, she established a chorus for so-called "red songs" about the Chinese revolution, with the assistance of the township government and frontier defense forces.
"As we gradually get richer, I want to express thanks on behalf of all ethnic groups in our region to the Party through music," she explained.
Integrating tunes of from Muqam, Ruzewanihan and her chorus have performed over 20 new red songs with unique ethnic characteristics.
The choir claimed the winning title at a red song competition held in Xinjiang in 2011 and won a silver award at a national folk song contest in 2012.
Under her influence, nowadays, nearly every person in the village can sing a red song.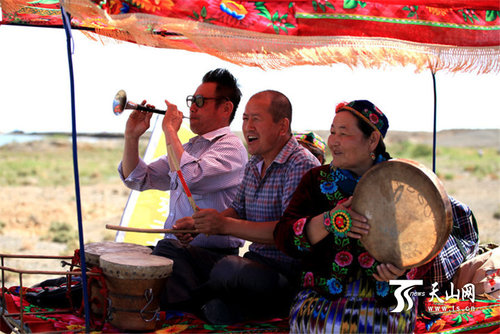 Ruzewanihan Kurban (R1) hits the drum. [by ts.cn]
(Source: ts.cn/Translated and edited by Women of China)