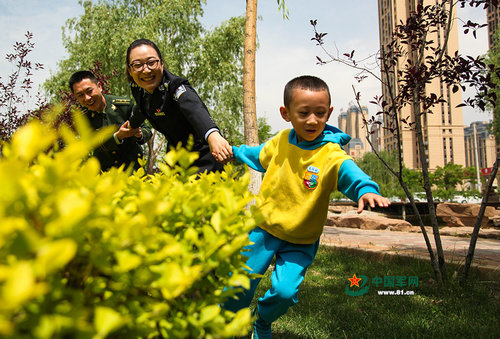 Hao Xiaoyan's family [81.cn]
To coincide with the nation's ongoing military reform, the Chinese Armed Police Force (PAP) of Gansu Provincial Forest Corps in northwest China recently carried out an activity to publicize role models among the corps' soldiers' wives.
Visiting journalists from People's Liberation Army Daily met six women who selflessly support their husbands and the army.
As the reform advances, more servicemen than ever were set to move from one army station to another, and from one post to the next, said officials.
Their wives' understanding is their strongest backup.
'It's worthwhile however much hard work I put in'
Hao Xiaoyan is the wife of Gao Liang, political assistant of the command. Hao is also a policewoman.
In 2009, Hao was introduced to Gao by an acquaintance. Sharing common ideals and pursuits, they developed feelings for each other quickly and got married.
In 2011, she gave birth to their son, Tutu. Like her husband, she is busy working extra hours almost every day.
In the past, the couple lived in different cities. At that time, Gao took leave only once a year so everything in the family relied on Hao to handle.
In late 2016, the wife gave up her stable job and the company of friends and relatives, asking to be transferred to Lanzhou, capital of Gansu, to fulfill her dream of a family reunion.
However, reality was not as good as she thought.
Due to the particularity of her work, she goes to work early and comes back late every day. Sometimes, she cannot see her husband for days.
She also needs to take their son to school and pick him up as well as deal with various domestic trivialities.
Hao has her own career and life pursuits. But to support her husband's career, she feels it worthwhile however much hard work she has to put in.
Hao Xiaoyan (R) at work [81.cn]
Hao Xiaoyan carries daily necessities home. [81.cn]
Hao Xiaoyan's family [81.cn]
Please understand that womenofchina.cn,a non-profit, information-communication website, cannot reach every writer before using articles and images. For copyright issues, please contact us by emailing: website@womenofchina.cn. The articles published and opinions expressed on this website represent the opinions of writers and are not necessarily shared by womenofchina.cn.