Wei Huixiao [mt.sohu.com]
Wei Huixiao, 39, went from being a doctoral graduate to an experienced senior officer in the navy in just four years. Now, she has become the Chinese force's first ever female vice captain.
During a recent interview, China Youth Daily unveiled the mystery of the high-achieving, widely-respected naval officer and spoke to her about how she attained her prestigious role.
Self-Recommendation
According to the normal military route, vice captain candidates need to graduate from a military school and then pass a series of assessments after working on a warship for a set period of time.
However, Wei has managed to achieve this goal having come from quite a different background.
After earning her undergraduate degree in Atmospheric Sciences at Nanjing University in east China's Jiangsu Province, she found a job at Huawei, a leading global IT provider, dealing with administrative work.
Later, Wei continued her education with a master's and doctorate at Sun Yat-sen University in south China's Guangdong Province, majoring in Earth Sciences. During that time, Wei volunteered as a teacher in southwest China's Tibet Autonomous Region and served as a warden at the 2008 Beijing Olympics.
She came up with the idea of joining the army during her doctoral study. According to the rules, doctoral graduates who want to join the army should be under 36. At the time, Wei, 35, would soon exceed the limit.
In October 2010, Wei submitted her self-recommendation letter to senior officers at the navy, expressing her strong desire of becoming a soldier.
"If I become a soldier, I would have no regrets in my life. It would be my proudest experience," the letter said.
After sending it, Wei made long-term preparations. To her surprise, the navy phoned her only three days later. After two weeks, a representative went to Wei's university to learn about her situation and offered her three choices of where to work.
In February 2012, Wei finished her doctoral study. She then became a member of China's first aircraft carrier, Liaoning.
Military Life
It was only when Wei reported for duty, however, that she realized her limited understanding of the navy.
She thought that she would live in a dormitory building on dry land. In fact, as the aircraft carrier was still under construction, everyone stayed on the support boat nearby.
With no oath-taking or title-conferring ceremonies, Wei took training classes directly alongside a group of military officers. When introducing herself, Wei bowed habitually to her fellow solders. Her superior told her that she should give a salute, which quickly made her realize her new identity.
Each time Wei finished a meal on the support boat, she would walk to its stern, looking at the carrier carefully. Once, during a class, the instructor played a home-made video of an aircraft carrier produced by a netizen. Rough as the video was, Wei's eyes were filled with tears as she thought of her "strong sense of mission."
In March, Wei finally boarded the carrier which she saluted with wide eyes every day, familiarizing herself with the cabins inside through training activities.
For Wei, an orienteering enthusiast since junior high school, it was exciting to try to find each of the relevant cabins on such a huge ship.
Her combat position was in the control room. Dashing from her own cabin to the control room, Wei's best time was five minutes. During an appraisal, in which soldiers were asked to find 10 certain cabins scattered in different parts of the carrier within 30 minutes, Wei completed the task in only 19.
In October 2012, Wei was appointed as deputy boatswain's mate of the Navigation Department, becoming the first female ever to hold a deputy department head position on a Chinese aircraft carrier.
When receiving her notice of the appointment, Wei was on a training course at the People's Liberation Army Dalian Naval Academy in northeast China. Out of the 38 months of her tenure at the carrier, 20 were spent in schools.
Still a Long Way To Go
In her first year at the post, Wei met challenges one after another. She strained every nerve to equip herself with all the information concerning the warship and the entire fleet as quickly as she could.
"To remember the data about the equipment, Wei often stayed up late. On several occasions at around 2 a.m., the light of her room was still on. And the next day, she did morning exercises with us on schedule," said a colleague.
"I just make use of every bit of time. There are too many things to be finished," Wei said with a smile in her office.
Liao Xiangquan, secretary of the Party committee at the fleet, revealed that Wei "throws herself totally into her work" and seldom took holidays or time off.
In the eyes of Huang Zhen, head of the To-Air Department, Wei is keen on study. "She often gathers a group of cadres, discussing combating strategies or how to improve drills," Huang said.
Recently, Wei is working on how to simplify the defense passwords to maximize the speed of intercepting missiles under the guidance of Captain Hu Jie.
"She knew little about the equipment on the warship when she came here. But now, after one year's hard work, Wei has mastered all the parameters accurately. She has a strong learning ability and grows quickly in the professional field," commented Hu.
Apart from combat, training and equipment, Wei is also responsible for the discipline. Though a strict officer, Wei always tried her best to help solve the difficulties of soldiers.
According to a senior officer surnamed Yao, Wei passed the independent operation appraisal for vice captain in double quick time. "It means she can maneuver the ship under normal circumstances," Yao said.
Nevertheless, Wei needs to continue to strengthen her skills and take fruther training about daily on-ship management, weapon usage, emergency handling and disaster relief.
"She is already on her road but still has a long way to go," Yao added.
Wei Huixiao poses with her students during her time as a volunteer teacher in southwest China's Tibet Autonomous Region. [policewomen.cpd.com.cn]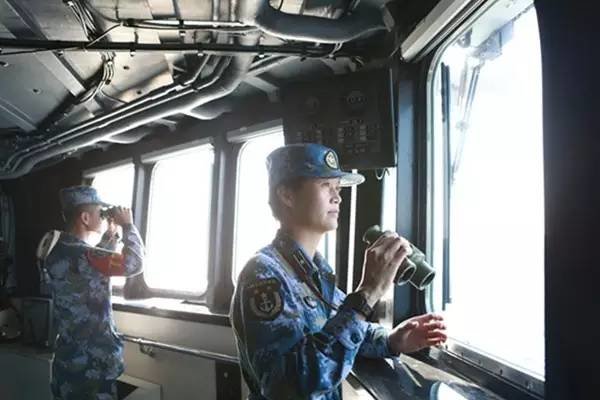 Wei Huixiao on a ship [81.cn]
Wei Huixiao and several soldiers study a book. [cache.baiducontent.com]
The warship Liaoning [news.qq.com]
(Source: China Youth Daily/Translated and edited by Women of China)