A close look of the 'Porcelain Palace' with ceramic fragments inlaid into the wall, built by Yu Er'mei in southeast China's Jiangxi Province [news.china.com.cn / Tian Weitao]
An elderly folk artisan in her 80s built a gallery in the village of Xinping, Jingdezhen City, in southeast China's Jiangxi Province, displaying various porcelains and ceramics created through her lifetime.
Yu Er'mei and her husband, who are both local artisans in Jingdezhen, have persevered in carrying forward their craftsmanship since early childhood. Jingdezhen is well known as the "Porcelain Capital" of China thanks to its tradition of producing chinaware for over 1,700 years.
Nowadays, Yu is a master in the field and owns a factory producing ceramic products, which are popular in both domestic and overseas markets.
For many years, Yu has maintained the habit of collecting her artworks and was determined to reserve treasures in a gallery of her own. When she reached 80, Yu had a collection of over 60,000 self-made ceramic products in total, attracting large numbers of collectors to bid high prices for the porcelain, even one from Beijing even offered 25 million yuan (U.S$ 3.76 million) for some of her masterpieces, but Yu refused.
Many relatives strongly opposed Yu's determination to build a gallery, regarding it as a huge burden to the senior couple, both physically and financially.
However, Yu decided to fulfill her childhood dream and started to work on her plan, from site selections and architectural designs, all based on her own creative plans.
It took five years for the first exhibition hall to be unveiled to the public while the other three are still under construction.
Yu hopes her 'Porcelain Palace' will benefit villagers in her hometown of Jingdezhen and it will also become one of the most meaningful and memorable achievements within her lifetime.
A bird's eye view of the 'Porcelain Palace' in Jingdezhen in southeast China's Jiangxi Province [news.china.com.cn / Tian Weitao]
Local artisan Yu Er'mei points to her newly built 'Porcelain Palace'.[news.china.com.cn / Tian Weitao]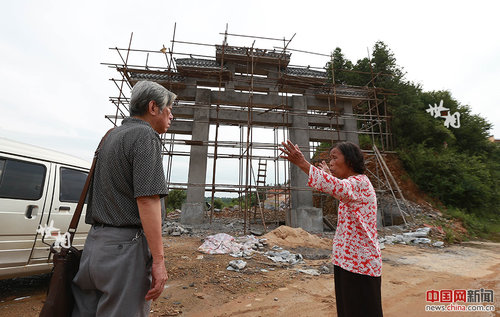 Yu Er'mei (right) explains her design to an engineer. [news.china.com.cn / Tian Weitao]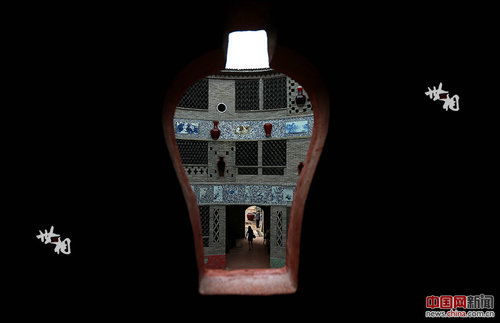 An inside look at the 'Porcelain Palace' through a window in the shape of pottery. [news.china.com.cn / Tian Weitao]
Visitors inside the 'Porcelain Palace' [news.china.com.cn / Tian Weitao]
(Source: news.china.com.cn /Translated and edited by Women of China)