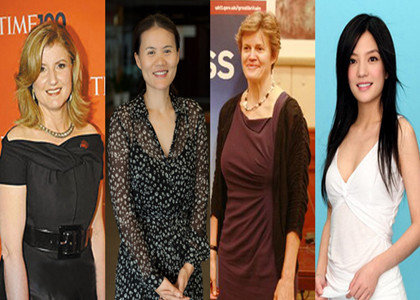 Arianna Huffington, Peng Lei, Barbara Woodward and Vicki Zhao (from L to R) [cnwomen.com.cn]
Four leading women delivered keynote speeches on the first day of the Global Conference on Women and Entrepreneurship, launched by Chinese e-commerce giant Alibaba Group on May 20.
Jack Ma, founder of Alibaba, delivered a welcome speech at the event, which took place in Hangzhou, capital of east China's Zhejiang Province.
The two-day conference, with "She-Era" as its theme, focused on women entrepreneurship in the era of big data.
Among the speakers were Arianna Huffington, founder of the Huffington Post, a U.S. online news aggregator and blog; Lucy Peng, chief human resources officer of Alibaba and chief executive officer of affiliated company Ant Financial; Barbara Woodward, the British ambassador to China; and top Chinese actress and film director Vicki Zhao.

Huffington, the media boss, founded the eponymous Huffington Post in September 2005. It soon caught the attention of the public with 5 million page views in one month during the 2008 U.S. Presidential Election Campaign. In May 2011, its monthly unique visitors exceeded that of the New York Times for the first time.
In 2012, the Huffington Post won a Pulitzer Prize for its report on U.S. war veterans, making it the first commercially-run U.S. digital media enterprise to do so. The site launched its Japanese version in 2013, marking a key step in entering the Asian market. Currently, the Huffington Post has 12 language versions.
As one of the most influential managers in the Internet world, Lucy Peng has kept a low profile. She seldom gives interviews and avoids all talk of her personal life in public. Peng's first job with Alibaba was in its human resources department. She has acted as the CEO of Ant Financial, the financial services and start-up wing, since its establishment in October 2014.
Barbara Woodward first came to China in 1986. She was an English teacher at Nankai University, one of the most renowned universities in China. She later worked as a political counselor and then minister and deputy head of mission in Beijing from 2003-2009. She is called a "China hand" by the British media. As Britain's first female ambassador to China, she encourages women to actively engage in economic and social activities.
Vicki Zhao is a Chinese actress, pop singer, and film director. Zhao rose to fame for her role as Xiaoyanzi ("Little Swallow") in the TV series "My Fair Princess" in 1998. She has starred in many box-office smash-hits over the years. In 2013, Zhao's directorial debut "So Young" broke the grossing record for a female Chinese director in just a week, eventually becoming one of the highest-grossing films ever in China. She won the Best Actress at the 34th Hong Kong Film Awards in April 2015.
The conference attracted over 800 women from the business, financial, Internet, fashion and media sectors.
(Source: cnwomen.com.cn/Translated and edited by Women of China)