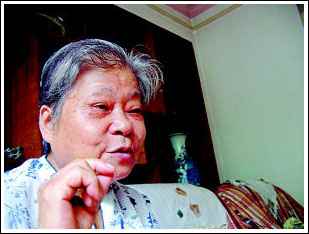 Yang Zhengmei, the second daughter of General Yang Hucheng, was born in Xi'an in 1932. Her mother is Xie Baozhen.
Yang Zhenmei suffered a lot in her childhood. When she was four years old, her father was imprisoned by Chiang Kai-shek for instigating the Xi'an Incident with Zhang Xueliang. Zheng Mei's mother was captured, too, while visiting her father with her 7-year old brother, Zhengzhong. After that, in order to avoid the Kuomintang's persecution and Japanese bombs,,Yang's of drifting from place to place began led by her grandmother. Her grandmother took Zhengmei and her three sisters to Chengdu, Sichuan, then to Santai County. They lived in strange lands outside of Xi'an for about 3 years.
Along the way, their grandmother often told stories about their parents. Yung Zhengmei grew to have the utmost respect for her parents.
Influenced by these things, Yang Zhengmei joined the revolution when she was very young. In 1948, 16-year old Yang Zhenmei secretly joined the Communist Youth League. She began taking part in the communist party's work and preparing for a new China's birth. In October 1949, Yang Zhengmei was sent to study at the Central Youth League School. In 1950, she graduated and was transferred to the China Communist Youth League NWPU (Northwestern Polytechnical University) Committee to work. Shortly after that she joined the Communist Party of China.
In 1954, Yang Zhengmei passed the examination entrance for Renmin University of China to specialize in Industrial Economics. After she graduated, she decided to go to Gan Su province where her talents were needed and living conditions were hard. She worked as director of a division, deputy director-General and a member of the standing committee of the Political Consultative Conference of Gansu province until she retired.
Yang Zhengmei had a colorful career as well as marriage.
It was new China's first spring when Yang Zhengmei graduated from the Central Youth League School. She had gone to Xi'an to work at the China Communist Youth League NWPU Committee.
That day, there was a meeting to report on combat heroes' deeds in the NWPU Hall. Several hundred representatives from five provinces in the northwest were in attendance. Yang Zhengmei was one of them. The last one to step onto the platform was a national hero – a crack sniper,
Bai Bingwu. During the wars of liberation, Bai Bingwu fired about 1000 shells, over 300 of them were directly
aimed single-shots and his percentage of hits was over 95%. Bai had been
praised by Commander Zhu.
When Bai finished his report and stepped down from the platform, the young and vibrant girl, Yang Zhengmei went up to him with her note book and asked for an autograph. Bai quickly signed it and asked for Yang's autograph, too . Yang Zhengmei took his notebook but did not immediately write in it. She said to Bai Bingwu seriously: "I don't want to sign it casually. Let me think it over , OK?"
When he first saw Yang Zhengmei, Bai already had a good impression of this open-minded and
lively girl. When he heard her strange request, he readily agreed.
Two nights later, Yang handed Bai his notebook. He was just about to open it and have a look when Yang stopped him and said: "You can't read it here. Return home and read it alone."
He returned to his room and opened the notebook in a hurry. What first greeted his eyes was "Dear Comrade Bai Bingwu", and he was very moved. Deep love for the girl arose spontaneously from the bottom of his heart. It was the first time that Bai Bingwu had heard such gentle and sweet words from a girl. He could not keep his composure any longer and decided to launch an "attack" on her at once. He asked her on a date and Yang happily agreed.
From their conversations, Bai knew that Yang was a daughter of the famous General Yang Hucheng. His love for Yang deepened because he admired General Yang Hucheng a lot. However, the brave young fellow lost his nerve in front of his beloved. He was too shy to express his love. Because she was also a shy girl, Yang Zhengmei kept silent, too. In 1951, the second year after Bai Bingwu went to the Korean battlefield and missed Yang, he wrote her a letter. The letter was transferred to Yang through a journalist who went to the front. In the letter, Bai Bingwu expressed his love. On receiving Bai's letter, Yang quickly wrote back and expressed her boundless love. That was how they established their romantic relationship.
At the end of 1953, Bai Bingwu triumphantly returned with the Chinese Army. He was garrisoned at Zhang Jia Kou, Hebei Province. Yang Zhengmei hurried there to meet him. Soon after that, they held a wedding. One year later, their daughter was born. Their daughter was born on the day of "White Dew" (Chinese "Bai Lu"), so they named her "Bai Lu". The three-person family has since lived a happy life. (Wu Dongping)

(Source: People's Liberation Army Daily)