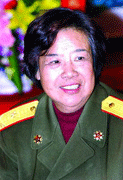 Daughter of a Revolutionary Martyr
Shao Hua was the daughter of Chen Zhenya, a revolutionary martyr. Her father fought in the Northern Expedition (1926-27), a war against the warlords by democratic forces. During the war, the CPC worked with the Kuomintang under the same "anti-colonial and anti-feudal" flag. CPC members and progressive members of the Kuomintang played a leading role.
In August 1939, her father was sent to Russia to treat an illness. Shao went to Russia along with her mother, Zhang Wenqiu, and her sister, Liu Siqi. However, when they reached Xinjiang, a warlord, Sheng Shicai, detained them and killed her father. Liu Siqi and Shao Hua were later rescued by the CPC. Shao Hua was only eight years old at that time.
Since then, she followed the revolutionary army around China from Yan'an to Taihang Mountain and from Xibeipo to Beijing. During the revolution, she was on the publicity team. In the area of Taihang Mountain, she danced yangge and acted in street skits. In Pingshan County, Hebei Province, she acted in "Brother and Sister Working in a Virgin Land" and "Bloody Tears." She spent her teenage years on horseback during the wartime.
Marriage to Mao Anqing
After the founding of the new China in 1949, she went to Yuying primary school to study. She became a Young Pioneer and joined the Communist Youth League of China. Because of her excellent academic record, she was sent to study at the attached high school of Beijing Normal University in 1953. She studied at Beijing No.1 Girls' High School. She attended college at Peking University's Chinese Department in 1959 and afterwards transferred to Dalian Normal University's Chinese Department. In 1961, she went back to Peking University and graduated in 1966.
In 1960, while she was recuperating in Dalian, she married Mao Anqing, Mao Zedong's son. In 1962, the couple returned to Beijing. During her marriage Shao Hua was happy. After Mao Anying, Mao Zedong's other son and husband to her sister, Liu Siqi, died in the Korean War, she cared the most for the whole family. Not only did she have to console Mao Zedong for the loss of his son, but also her sister for the loss of her husband. Meanwhile, she had to take care of Mao Anqing, who was in poor physical health.
Passion for Arts
Shao Hua has extensive interests. Besides literature, she loves photography. In the early 1950s, in order to take a picture with Chairman Mao, she learned photography with an old camera that Mao Anying brought back from the Soviet Union. After work, she carried her camera with her wherever she went. Her work is closely related to photography. In recent years, she has completed dozens of photographic reports on people, revolutionary places, sceneries, commemorative activities, platforms, and flowers with extraordinary passion and resolve. Her photos have been published in many newspapers and magazines, including the People's Daily, the PLA Daily, China Photo, People Photo, Pop Photo, PLA Pictorial, Dance, etc. She has also won many awards in grand photo exhibitions. In December 1998, she exhibited and published a photo album named "My Motherland" in the commemoration of Chairman Mao's 105th birthday and the People's Republic of China's 50th anniversary.
Shao Hua has loved literature since she was a little girl. In 1954, she wrote a poem called "Huang Jiguang" and a story named "A Holiday Evening."
In 1990, she supervised the publication of an album, "Jiao Yang", in commemoration of Yang Kaihui's ninetieth birthday.
In 1993, in commemoration of his 100th birthday, she and Mao Anqing supervised the publication of a book series called "Mao Zedong Rises from China." In collaboration with Xue Qiliang, she also published a book series called"Our Fathers," which won the 8th the China Book Prize and the first Youth Book Prize.
In 1995, to celebrate the opening of the Fourth World Conference on Women, Shao Hua planned a movie,"Yang Kaihui", and a TV series, "Search for Yang Kaihui."
In 1996, in commemoration of the 60th anniversary of the Long March, she planned and participated in the New Long March Activity. She also supervised a TV series, "Glamour of the Red Army Women Generals."
That same year, Shao Hua planned and organized "Mao Zedong's Poetry and Ci Symphony Concert" to commemorate the 50th Anniversary of the "Talks at the Yan'an Forum on Literary and Art." The concert, held in Beijing Concert Hall, was a great success.
In 1998, she published a collection of stories, "We Love Red Azaleas in Shaoshan", and a photo album, "My Motherland."
In October 2000, she organized the shooting of a TV program, "Mao Anying in the Korean War", and a forum on the 50th anniversary of Mao Anying's death in the Great Hall of the People.
In September 6, 2003, she held a dance and photography exhibition in the Beijing Military Museum to commemorate the one hundred and tenth anniversary of the birth of Mao Zedong.
General Shao Hua said: "As Mao Zedong's daughter-in-law, I am perplexed. Even though he was the person who stood at Tian'anmen and proclaimed the founding of a new China, to me, he was more like a father. Most of the time, I could not simply see him in only one of the two roles. Therefore, in my writing, my words go between these two images."
Shao Hua is the Deputy Director of a department in the PLA Military Science College and major general. She was member of the 7th, 8th, and 9th Chinese People's Consultative Conference (CPPCC), a member of the Chinese Writers Association, and President of the China Photographers Association. She was elected Top 10 women talents in 2004. She went to the army, factory, countryside and schools to check about the real situation in the people and to listen to people's voices. She wrote dozens of proposals for the CPPCC. Her working diligence and her spirit to serve the people were widely praised.
(Source: China Women's News/Changhsa Evening News)