Gong Pusheng (1913-2007) was the second woman ambassador in the history of new China and first ambassador to Ireland after China established diplomatic relations with the European country in 1979.
Present at the birth of the United Nations in 1945, she became the UN's first Chinese woman diplomat.
Born Revolutionary
Gong Peng was born in Shanghai. Her father Gong Zhenzhou (1882-1942) was a famous late Qing Dynasty (1636-1911) revolutionary whom Sun Yat-sen appointed commander of the Humen military fortification after establishing the Guangzhou Military Government in 1917.
Gong Zhenzhou insisted on giving his daughters Gong Pusheng and her younger sister Gong Peng (1914-1970) the best education possible, even though the family was far from well-off. They both studied at Yenching University in Beiping (today's Beijing) after graduating from Saint Maria Girls' School in Shanghai.
Gong Pusheng (R1) in 1941 in the US with other Yenching University overseas students. [file photo]


Gong was involved in the December 9th Movement -- the mass protest of 1935 led by students in Beiping demanding active resistance from the Kuomintang government to potential Japanese aggression.

To break the news blockade imposed by Kuomintang authorities, Gong Pusheng, in her capacity as vice-president of the Yenching University Students Union, and Gong Peng, also a student leader, jointly held a press conference on campus informing foreign journalists about the movement. Among those present was American journalist Edgar Snow, author of Red Star over China, who later interviewed Mao Zedong in Yan'an.

The Gong sisters' obvious intelligence and revolutionary ardor made a deep and favorable impression on overseas journalists. The success of the sole press conference letting the world know about the December 9th movement presaged their future diplomatic careers.

In March 1938, Gong Pusheng joined the Communist Party of China (CPC).

Overseas Mission

In 1939, Gong led a Chinese youth delegation to the World Conference of Christian Youth in Amsterdam, Netherlands, and also attended the World Union of Students assembly in Paris.

At the end of that year, CPC leader Zhou Enlai met with Gong in Chongqing to hear the report on her European journey. When she finished Zhou told her, "You should go to America where you can tell the whole world about the Chinese people's war against Japan's invasion and win international support and sympathy." Taken aback at first, Gong soon agreed. "You need to make friends there and learn more about America. You have the ability to work on the international united front," Zhou said.

In September 1941, Gong went to Columbia University to pursue her master's degree. On December 7 scarcely three months later, Japan attacked Pearl Harbor and the Pacific war broke out. Gong received invitations from various American groups in different cities to give talks on China's war against the Japanese invasion. She took every opportunity to call for help in the effort to the beat aggressors.

It was around this time that Gong made the acquaintance of then U.S. First Lady Anna Eleanor Roosevelt (1884–1962), famous writer Pearl S. Buck (1892-1973) and other prominent U.S. figures.

Gong told Eleanor Roosevelt China's long history and about the country's efforts to expel the Japanese invaders at a weekend house party she invited Gong and others to spend with her. The First Lady paid high tribute to the Chinese people and promised American support for China in this war of justice.

Gong returned to China in 1942 when her father died. She went back to Columbia University in August 1945 to pursue her doctorate degree in international relations.

Diplomats and Lovers

China, an initiator of the UN, sent a delegation of both Kuomintang and CPC members to San Francisco on April 25, 1945 to attend the United Nations Conference on International Organization.

It was there that Gong Pusheng, at that time a volunteer at the UN, and CPC representative Zhang Hanfu (1905-1972) met. Instantly attracted to one another, they corresponded regularly after Zhang returned to China.
Gong Pusheng with husband Zhang Hanfu on the Tian'anmen Rostrum. [file photo]


When World War II ended, Gong worked as a researcher at the UN Human Rights Council and participated in compiling the UN human rights yearbook.

She returned to China shortly before the foundation of new China in 1949. On July 1 that year, she and Zhang Hanfu, who had by then risen to the rank of chief of the Overseas Chinese Division of the Shanghai Military Control Commission, married. Deng Yingchao, wife of CPC leader Zhou Enlai, acted as their wedding MC.

After the founding of the People's Republic of China on October 1, 1949, Zhang Hanfu was appointed Executive Deputy Minister of Foreign Affairs. Having worked at the International Department of the Ministry of Foreign Affairs, Gong participated in the UN Assembly on Korean War issues from June 25, 1950 till the cease-fire on July 27, 1953.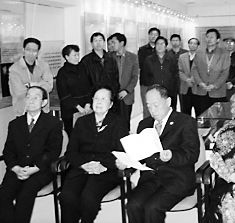 Gong Pusheng (M) and former Minister of Foreign Affairs Li Zhaoxing (R) (in office from 2003 to 2007) at the launch of the Zhang Hanfu Biography. [file photo]


Gong contributed much to restoring China's UN membership in 1971, and attended the UN Conference on Disarmament in Geneva in 1979. In her later years she served as vice-president of the China United Nations Association.

First Ambassador to Ireland

After taking up the office of China's first ambassador to Ireland in 1980 and thus becoming first-ever Chinese woman ambassador to Europe, Gong Pusheng stepped into the diplomatic limelight.

Gong took every opportunity at the various assemblies and ceremonies she attended to introduce modern China to the people of Ireland. In the process she reinforced communication and exchanges between the two countries in the fields of economy, science and technology, culture, education and medical care.

Gong also established a lasting friendship with Ireland's then President Patrick Hillery and First Lady Maeve Hillery. They kept up a regular correspondence after she left the post in August 1983.

(Source: Hefei Newspaper Network, Jianghuai Morning News/ Translated by womenofchina.cn)