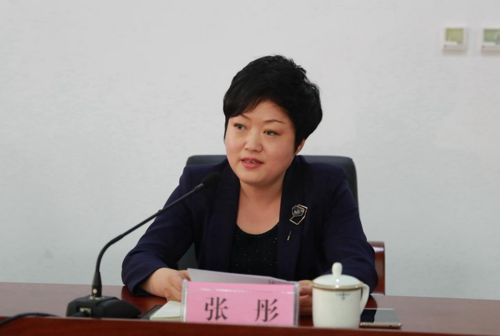 Zhang Tong [jschina.com.cn]
Zhang Tong, president of Jiangsu Women's Federation, east China, recently gave an interview to share her personal feelings about participating in the 12th National Women's Congress (NWC) of China and making arrangements for the future work of the women's organization.
Zhang said the Central Committee of the Communist Party of China (CPC) with President Xi Jinping at its core has paid close attention to women's causes and women's work, and has set high expectations for women's federations.
Zhang remarked that she has confidence to firmly uphold the authority and centralized, unified leadership of the CPC Central Committee and contribute her efforts to developing women's work in the new era.
Women's federations at all levels should keep President Xi's remarks in mind, make full use of their unique role as a link between the Party and Chinese women, and devote themselves to the construction of a new working pattern, said Zhang.
When talking about how to develop women's work in Jiangsu in the new era, Zhang put forward four requirements for the federations.
First, women's federations should hold high the banner of Xi Jinping Thought on Socialism with Chinese Characteristics for a New Era, follow the remarks made by Xi on women and children as well as federations' work, and adhere to the leadership of the Party steadfastly.
Second, federations should uphold the socialist path with Chinese characteristics for women's development, pool strength for the realization of the Chinese dream of national rejuvenation and adhere to the basic state policy of gender equality.
Third, federations should pay close attention to women's unique role in social and family life, strengthen their political consciousness, become more advanced, and better represent the people so as to modernize China's system and capacity for governance.
Fourth, women should make up their minds to follow the Party and make greater achievements in the new era. They should implement Xi Jinping Thought, promote civilized social customs and help the reform of women's federations.
Zhang explained how local women's federations will improve their work in the next five years.
First, federations will further implement Xi Jinping Thought, actively study the address made by President Xi when he met the new leadership of the All-China Women's Federation and carry out the arrangements of the 12th NWC.
Second, federations will emancipate their minds, stick to reform and innovation, and strive for meeting women's ever-growing needs for better lives.
Third, federations will carry out relevant activities on entrepreneurship, rural vitalization, family civilization construction and rights protection, to help the province maintain high-quality development.
Fourth, federations will carry out reform and improve their services, particularly at the grassroots level, to foster competent staff for relevant work.
Furthermore, federations will rally women from all sectors across the country to follow the Party and fulfill their major missions to serve women, Zhang concluded.
(Source: China Women's News/Translated and edited by Women of China)