Fang Tingting takes a picture of apples in the orchard. [Zhang Juntao, Li Lin]
Fang Tingting, a female college-graduate-turned village official of Banqiao Village, near the city of Weihai in east China's Shandong Province, has recently promoted her local apple-growing orchard business via her official WeChat account.
The 27-year-old is a graduate of Shandong Normal University. She became a village official in Banqiao after she passed the qualification examination.
Her job is to assist the villagers committee to serve villagers. Besides her routine work, she started to assist the local farmers in selling fruit via e-commerce.
At the beginning, Fang recorded a song that composed by herself and posted it on WeChat in August. Her post got over 2,000 views, and was shared and liked by many netizens.
Many people ordered apples from her after reading about the promotion.
In September, farmers from the neighboring Xinshangzhuang Village heard the news and went to her for help. Fang utilized a WeChat post again and sold over 400 kilograms of apples for the farmers. The biggest order she has ever received is an order for 22 boxes of apples, which was set on October 23.
In order to help farmers to sell more, Fang's next plan is to live broadcast how the farmers pick apples from the orchards. In five years, she also plans to take family photos for villagers, and launch a photography exhibition on the theme of Banqiao Village.
Fang said that she would continue pursuing new knowledge and improving herself so as to better serve the people.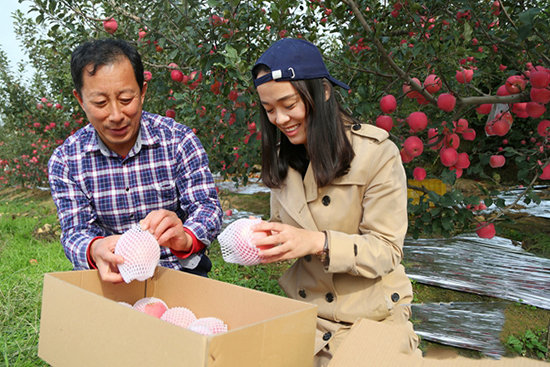 Fang Tingting and her colleague pack apples in boxes for online buyers. [Zhang Juntao, Li Lin]
Fang Tingting picks apples for netizens. [Zhang Juntao, Li Lin]
(Source: www.dxscg.com.cn/Translated and edited by Women of China)