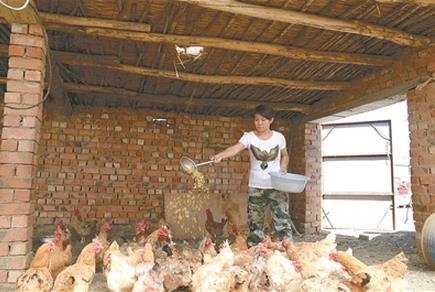 Zhang Shan [youth.cn]
A village official from northwest China's Xinjiang Uygur Autonomous Region has greatly improved locals' livelihood over the past six years by building infrastructure facilities and developing agriculture.
Zhang Shan is Party chief of Taowaqi Village in the local county of Bukesaier. She began working as an official in the village after graduating from university in 2011.
In her first two months, she visited farmers and herdsmen door by door, learning about their living conditions and income.
Zhang found that issues concerning poor roads and water supply had bothered local residents for decades, and that only by helping them solve these headaches would she win their trust.
As she recalls, the villagers doubted about her ability. "Many village officials had failed to solve those problems in the past. Will such a young woman make any difference?" they wondered.
Zhang proved herself soon.
Under her coordination, a fund was raised for the construction of an 8.5-kilometer-long highway which connected the village and the center of the town, and the hardening of two 1.5-kilometer-long village paths.
In addition, a 6.5-kilometer-long, anti-seepage channel will soon be put into use.
Under Zhang's leadership, the village has seen great progress in infrastructure and sanitation, and was rated by local authorities as a role-model unit for ethnic unity, and a civilized village, respectively.
In 2016, to boost villagers' income, Zhang led them to establish chicken-breeding and potato-growing cooperatives.
At the beginning, due to inadequate experience, a large number of the young birds that they bought died.
Through constant experimentation, Zhang replaced the original free-range raising model with a standardized and modernized version which greatly reduced disease and raised egg production and quality.
Later, under her active coordination, another fund was granted to the village for distributing free hatchlings to every household.
In the last year, the annual income per capita increased by over 800 yuan (U.S.$ 120) due to the newly-started egg business.
Moreover, after discussion with villagers' committee and the local Party branch, Zhang extended the local corn growing area by 460 mu (30 hectares) and built nine silage pits.
According to her, farmers can earn 300 yuan (U.S.$ 45) more on each unit area of land in comparison to other crops.
"Others raise sheep, so we supply silage to make money. The risk and costs are low," she said.
Zhang also introduced high-quality rams and led villagers to build 10 standardized, heated pens. The poultry raising business alone helped increase the annual income of each household by nearly 1,000 yuan (U.S.$ 150).
"All of her projects seem to be small. But together, their effects are considerable," said one villager.
In 2016, the village's annual income per capita reached 10,750 yuan (U.S.$ 1,620), twice as much as that before Zhang's arrival.
(Source: Youth.cn/Translated and edited by Women of China)