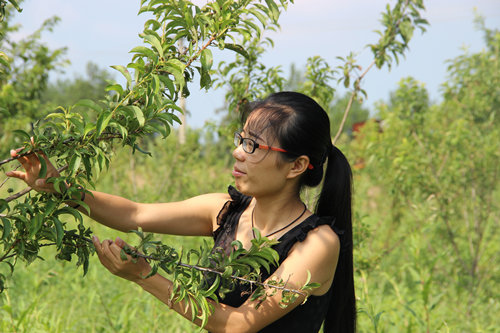 Zhang Shuang checks a plum tree's growing conditions. [Youth.cn/Li Dayuan]
In China, forward-thinking university graduates are heading to rural areas as grassroots officials, helping villagers shake off poverty through their wisdom and hard work.
Uni-grad Zhang Shuang from southwest China's Chongqing Municipality has introduced a 33-hectare fruit garden project to Fangdoushan Village in the municipality's Fengdu County after she became a village official and member of the poverty-relief work team to the village in December 2015.
"Before I came here, some people said to me, 'It's an arduous and tiring job to be a village official. You'd better be well-prepared mentally,'" she said.
"I answered without hesitation: 'I can bear any hardship. Only after I work in a rural area will I live my life fuller, and will the meaning of my existence be proved.'"
Upon her arrival, Zhang and other members of her team visited villagers door by door to find out locals' thoughts, needs and expectations.
Through investigation, they figured out the lack of stable industry support was the cause of the region's poverty so they helped the village apply for one of the government's poverty-relief projects.
However, just before they worked on the project, some villagers came out in opposition.
"Farmers worried local conditions were not suitable for planting plum trees, and that inadequate management and technical guidance might lead to failure," Zhang explained.
During the project's implementation, Zhang visited the base frequently to observe seedlings' growing conditions and organized regular maintenance work such as weeding, loosening soil, applying fertilizer and trimming.
"This year, many trees have bore fruit. This brings hope to villagers and boosts their confidence in the project and to shake off poverty," said the secretary of the village Party branch.
According to Zhang, local plum trees will enter into their full fruit period in less than three years.
"At that time, we are expected to achieve a total value of 2 million yuan (U.S.$ 306,600) which will benefit 285 people from 89 households," she added.
In early 2017, after a vote by villagers, Fangdoushan Village developed a new fruit-growing base of 20 hectares.
"By following the development model that integrates agriculture and tourism, we will continue to lead villagers to develop production, solve unemployment and drive regional economic development, as well as boosting our village's collective revenue," Zhang concluded.
(Source: Youth.cn/Translated and edited by Women of China)