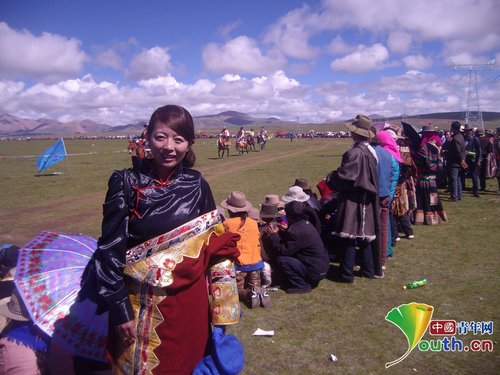 Ciwang Zhuoma [Youth.cn]
An ethnic minority official from Naqu County in southwest China's Tibet Autonomous Region has dedicated herself to targeted poverty alleviation over the past six years.
Ciwang Zhuoma is deputy chief of the Culture Bureau in the county. She gave up a promising career path in the city after university and returned to her impoverished hometown to promote its development.
Under her relentless endeavors and support, six roads stretching over 170 kilometers have been built since she moved back, helping several thousand herdsmen significantly increase their earnings.
Fighting Against Misfortune
Ciwang was born in the county's Jiaqin Township. She became an orphan after her father passed away and her mother was abducted. Her grandmother also died from illness.
She became homeless at eight and lived a meager existence by begging.
Later, with assistance rendered by the township's government, she got a basic living guarantee to receive food and clothes and have access to primary school education.
During summer and winter breaks, she had to stay at her classmates' homes. "At that time, I felt quite scared at the thought of graduation because it means I would return to my street urchin life," she recalled.
To find a way out, she studied with all her might in school and was admitted to one of the classes set up for Tibetan students by the country's inland institutions as part of China's education relief scheme.
She then left her hometown by plane for northeast China's Liaoning Province, embarking on a journey to a different fate. She learned Chinese for a year and studied four years at junior high school.
She stayed in Beijing for seven years until she obtained a bachelor's degree.
Whilst pursuing studies in strange lands, she improved herself constantly and built up her confidence. "All of my progress is thanks to the help and care from benevolent people," she said.
"They don't accept my money, nor do they expect me to do anything for them. They just hope I can have good prospects.
"Although I didn't have rich experiences and knowledge, I want to do what I can to reward my hometown."
She even gave up an opportunity to pursue overseas studies at Columbia University in New York after graduation.
"I'll go back to Tibet!" she decided.