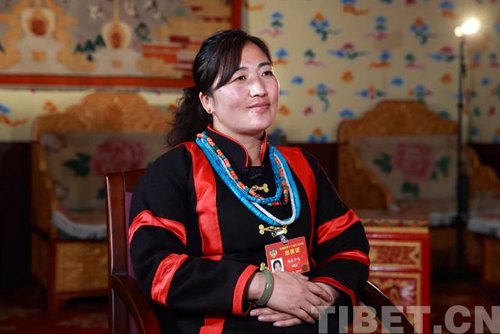 Gesang Zhuoga [Tibet.cn]
A grassroots official from a remote ethnic township has dedicated herself to bringing grassroots people's voices to the annual sessions of the nation's top advisory body for five years.
Gesang Zhuoga from Motuo County of southwest China's Tibet Autonomous Region is secretary of the Communist Party of China Muotuo District Committee and member of the 12th Chinese People's Political Consultative Conference (CPPCC).
Attending the "Two Sessions"
"I'm a political advisor from the Lhoba ethnic group. I have brought many voices and expectations of the people to the Great Hall of the People [where CPPCC's annual session is held] and promoted the settlement of many problems," Zhuoga introduced herself at the fourth plenary meeting of the fifth session of the 12th CPPCC on March 12.
At the meeting, Zhuoga delivered a speech titled "Acting as Paving Stones Connecting the Hearts of Lhoba People and the Party" in front of over 2,000 CPPCC members, introducing the current conditions of her region and local people's real needs.
"I never thought about it. I was really excited," she said.
"As a CPPCC member from an ethnic minority group with a population of over 3,000, I feel honored to speak at such a high-level place. It's a reflection of our country's policies of full equality among ethnic groups."
Motuo was the last county to be accessed by a road in China due to its adverse natural conditions.
Zhuoga recalled when she took part in the annual session in 2013, it took her six days to reach Beijing.
"I set out from Motuo, walking a long distance because there was no highway at that time. Then, I rented a motorcycle and took a bus before I got to the airport," she said.
Over the past five years, under favorable government policies, roads have been built in many places in Motuo.
"This year, I took a bus from Motuo County to the city directly and only spent just over two days to reach Beijing," she added.
In addition to reducing people's travelling time, road building also brings about great improvements to local people's lives.
"Take visiting the doctor, for example. In the past, many residents with serious illnesses couldn't reach the hospital in time, losing the best timeframe for treatment. Some even died," she said.
"After the roads were built, locals could conveniently get to county and municipal hospitals."
In addition, Zhuoga said it also solved children's education problem.
Since being elected as a CPPCC member, she has presented many proposals on road issues, which have received the attention of the central government.
Once, at a panel meeting during the "Two Sessions", Zhuoga mentioned her county's last three townships not being accessible by road.
Attending officials from the Ministry of Transport replied to her immediately: "Roads will be built in these townships in three to five years."
Now, one of them has already finished road building while the other two are under construction.
"This is my most satisfactory proposal since I became a political advisor," she commented.
Promoting Local Prosperity
Zhuoga used to be deputy head of the Justice Bureau of Motuo County.
During her travels to spread legal knowledge, she saw many poverty-stricken villages and conventional villagers. Therefore, she applied for a post in the grassroots and became head of Damu Lhoba ethnic township.
She visited villages one by one, explaining the people-benefiting policies of the CPC and the government. In addition, she discussed with villagers about how to shake off poverty by exploiting local resources, helping people to change their old ideas of totally depending on government relief.
"We raised funds and helped people with cooking skills build nongjiale [farmhouse-style village accommodation where tourists can eat, stay overnight, watch performances and participate in other activities], which received over 1,000 tourists in one year and produced an annual income of over 80,000 yuan (U.S.$ 11,580)," she introduced.
Meanwhile, driven by the development of nongjiale, many young people achieved employment and started running Tibetan pig, free-range chicken and fish farms.
In May 2016, Zhuoga began to serve in her current post and felt her "duties grow heavier."
2017 marks the last tenure year of members to the 12th CPPCC.
"I hope I can continue to play my role of paving stones for the future and bring more benefits to people," she said.
Gesang Zhuoga speaks at a penal meeting of this year's CPPCC annual session. [Youth.cn]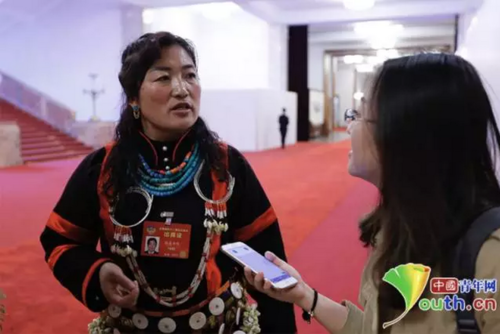 Gesang Zhuoga gives an interview during this year's "Two Sessions". [Youth.cn]
(Source: Xinhua/Translated and edited by Women of China)