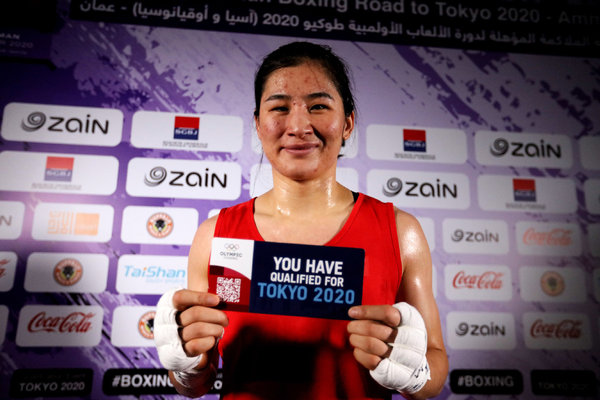 Li Qian displays a ticket saying, "You have qualified for Tokyo 2020" to the media in Amman, Jordan, March 8, 2020. [Xinhua]
HOHHOT — Chinese boxer Li Qian remains on course for her goal of claiming an Olympic title after securing her place at Tokyo 2020 after the Asian/Oceanian Olympic qualifiers in Jordan. Thousands of kilometers away, her number one fan is even more excited than she is.
"I'm proud of my daughter," her father Li Shouying told Xinhua after following the Olympic qualifiers closely on television. "Being on the top of the Olympic podium is my daughter's goal."
Born in 1990, Li Qian studied at the vocational sports school of Inner Mongolia and enrolled in the region's boxing team at the age of 17.
Her parents didn't approve of her taking up boxing at first, as they thought it was was too violent.
"Boxing was unacceptable in our minds then and it looked cruel," Li Shouying said. "But my daughter tried hard to convince us and her coach had long discussions with us."
Li's parents eventually relented when they saw her determination to succeed.
"With our support, she started training harder and harder," Li Shouying said. "The more she practised, the bigger her dream and goal became."
From 2012 to 2015, Li won three gold and four silver medals at national, Asian and world competitions.
At the 2016 Rio Olympics, she won the bronze medal in the women's middleweight boxing competition.
"All the experience helped her improve self-confidence and understanding of boxing," Li Shouying said.
(Source: Xinhua)