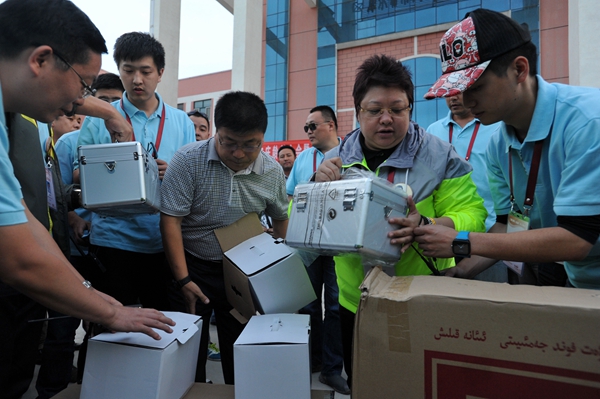 Han Hong checks medical supplies at the event in Korla. [For China Daily]
Singer-songwriter Han Hong takes action to help Wuhan, the city at the center of the coronavirus outbreak.
Han Hong had planned to stage the first concert of her 2020 national tour in Wuhan, Hubei Province, on February 29.
But the coronavirus outbreak, which began in the provincial capital, forced her to cancel the show. She also called upon celebrity friends and ordinary people to donate to the hardest-hit city. Hospitals in particular need masks, protective suits and goggles.
"I want to call on my friends in the art circles to donate and help people affected by this terrible virus outbreak," the 48-year-old said on her Sina Weibo account, which has over 13 million followers.
By Saturday, over 100 Chinese celebrities, including actors, actresses, singers and songwriters, as well as the general public, had joined the donation drive. Over 2 billion yuan ($285 million) have been donated through her nonprofit, Han Hong Love Charity Foundation, which she founded in 2012.
"When you're going through a situation like this, you obviously want to do anything you can to help. There are so many generous people out there," writes a fan, who donated through Han's foundation."It's good to know that there are trucks with medical supplies going straight to the medical staff."
Han updates donation information, such as accounting records, and details about the transportation and distribution of medical supplies, on Sina Weibo.
"We all have the urge to help. We're doing our best," Han wrote on the platform on Friday.
She also credits donors for showing love and calls for more fundraising, which should be open and transparent.
"I trust her. She's more than a pop star. She has the power to influence and make a difference," a fan posts on Han's Sina Weibo.
Han is known for her powerful vocal range, boyish appearance and outspoken personality.
She rose to popularity with such hits as her original, Heaven's Road, and her rendition of the song, Qinghai-Tibet Plateau, which was first performed by Li Na in 1994.
Han has declined interview requests. Her colleague says she's busy coordinating work in Wuhan.
In 2008, Han staged a charity performance for Wenchuan, Sichuan Province, after a 7.9-magnitude earthquake struck the region. This inspired her to found her foundation.
Over the years, she has donated to people affected by various disasters, including an earthquake in Yushu, Qinghai Province, in 2010; a huge mudslide in Zhugqu County, Gansu Province; and a 5.8-magnitude earthquake in Yingjiang County, an impoverished community in Yunnan Province, in March 2013.
"I almost spent my savings to donate after disasters. That's what I want and what I can do," Han said in an interview on the online show, Opinion, in 2015.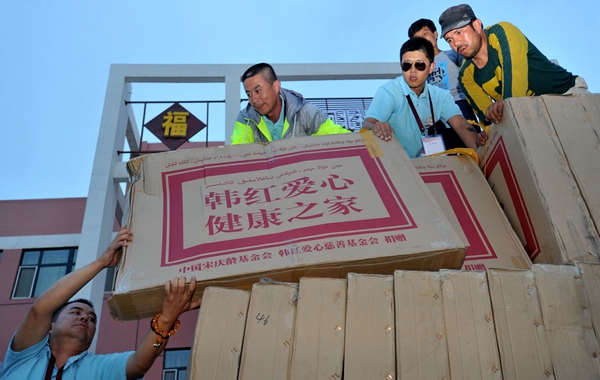 Volunteers help in a charity drive organized by Han Hong's foundation and Soong Ching Ling Foundation in Korla in the Xinjiang Uygur Autonomous Region in 2013. [For China Daily]
"Hundreds of people work with our foundation. We need to build up public trust and benefit people in need. Many people don't trust charity organizations to use their donations properly. Charities are held at a higher standard, and we need to maintain donors' trust."
The show also reports that Han has been financially supporting over 200 orphans since 1999.
Han was born in Chamdo in the Tibet Autonomous Region. Her mother, a Tibetan folk singer, introduced her to music. Her father, an ethnic Han, died when she was 6 years old.
At age 9, after her mother remarried, Han was sent to Beijing where she was raised by her grandmother, who passed away in 2005. She said in the earlier interview the loss was devastating.
"She loved me unconditionally. Now, she has left me. And I want to give back my love by helping people in need, especially elderly people and children."
Han trained at the China Conservatory of Music and at the School of Military Culture of the National Defense University of the People's Liberation Army of China. The singer released her 10-song debut album, The Brightness of the Snow, in 1998. It was an instant hit.
In 2017, she composed songs for the Chinese musical, A Moment of Remembrance, which aims to raise awareness about elderly people with Alzheimer's.
Han is also a member of the Chinese People's Political Consultative Conference National Committee. She has presented proposals about helping and protecting "left-behind" children, especially victims of sex abuse.
"Many great artists in the world... are known for their philanthropy. That's the amazing thing about human nature," Han said on Opinion.
(Source: China Daily)