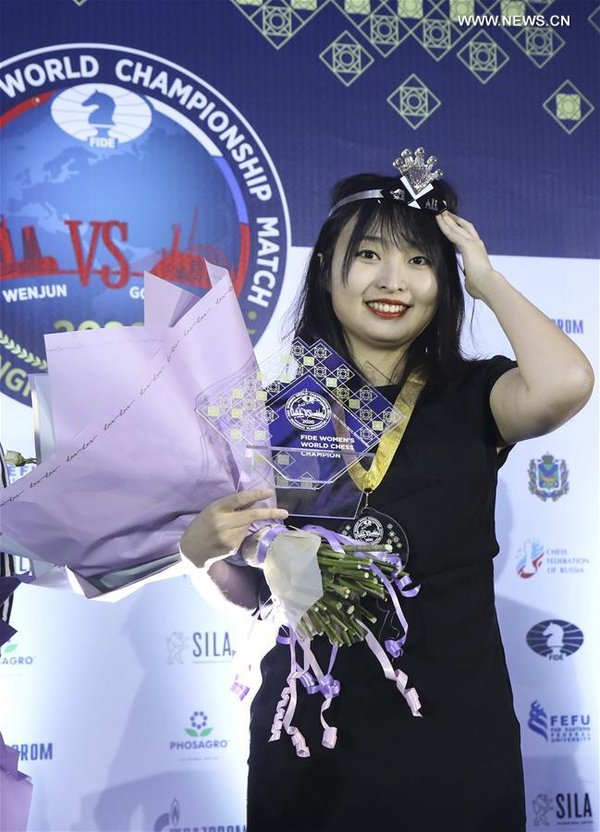 Ju Wenjun of China poses during the awarding ceremony after the 2020 FIDE Women's World Chess Championship Match against Aleksandra Goryachkina of Russiain Vladivostok, Russia, Jan. 24, 2020. [Xinhua/Etery Kublashvili]
VLADIVOSTOK, Russia, Jan. 24 (Xinhua) — Chinese chess grandmaster Ju Wenjun defended her title at 2020 Women's World Championship at Vladivostok by defeating 21-year-old challenger Aleksandra Goryachkina 8.5:7.5 on Friday.
The first six rounds of the 12-round championship were held in Shanghai, China before moving to Vladivostok. Ju Wenjun was leading by 6-5 after 11 rounds. The young Russian tied the match 6-6, dragging the championship to the rapid game playoff.
After two draws in the first two rapid games, Ju Wenjun won in Game 3, and tied with her opponent in Game 4 to defend her title, again.
In May, 2018, Ju took the crown for the first time after defeating Tan Zhongyi as a challenger at the Women's World Championship to become China's sixth woman chess world champion. She defended her title in the Women's World Chess Championship in Khanty-Mansiysk, Russia in November, 2018.
The International Chess Federation raised the total prize money to 500,000 euros as the winner will take 55 percent of it.
Ju Wenjun (R) of China poses with Aleksandra Goryachkina of Russia during the awarding ceremony after the 2020 FIDE Women's World Chess Championship Match in Vladivostok, Russia, Jan. 24, 2020. [Xinhua/Etery Kublashvili]
(Source: Xinhua)