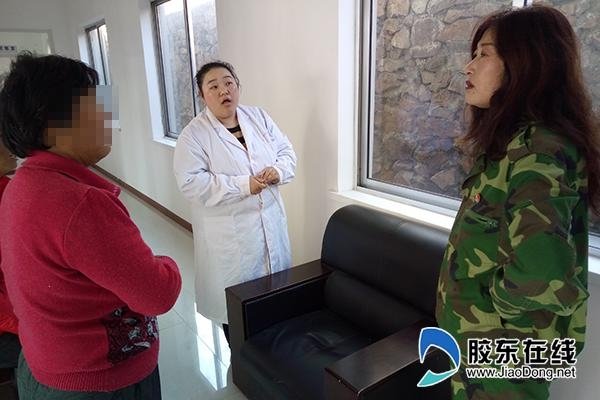 Wang Hui explains to the islanders that they should pay attention to their daily medication. [Jiaodong.net]
A graduate of the Shandong College of Traditional Chinese Medicine, Wang Hui has long had a firm faith that she would be a dedicated and responsible doctor working in grassroots areas.
Xiaoqin Island in Changdao County in East China's Shandong Province, 40 kilometers away from the mainland, has a population of only about 900 people. In 2008, Wang graduated from the college and started her medical practice on the island as its first and the only full-time doctor.
Wang has spent 11 years in the island, far away from her parents and friends. Some doubt her decision of staying in the island, or may say that she lacks filial devotion to her parents.
However, Wang believes that she does the right thing. "Although, I am a common island doctor, I really feel the energy and hope I bring to the island. No matter where I am in the future, I will never forget that I have spread hope in this place," she said.
When Wang came to the island for the first time, she found it hard to adapt to the local living environment. As a girl who grew up in the county, insufficient freshwater resources, transportation inconvenience and insufficiency of materials all troubled her.
At the same time, the work was complicated for her since the island was isolated from the outside world and lacked facilities for medical examinations. Wang had to diagnose patients only by her experience, which was difficult for a fresh university graduate. Nevertheless, she was self-motivated to overcome many difficulties in work and life and she has relighted the hope and courage to carry out her work whenever she saw villagers looking for help.
An exposed elbow joint, deformed forearm and multiple leg fractures: Wang was facing a case of multiple fractures in her early days.
"As the only doctor on the island, I forced myself to calm down and completed checking the patient, then rescue the injured as soon as possible," Wang recalled. Since then, she has worked harder to enrich her clinic experience.
Wang has combined theory and practice in her work and does her job with love, care and patience. Wang has also gained a well-rounded understanding of grassroots work and learned a lot on the island which she couldn't have learned in school. In just five years, she had achieved standardized clinic work, qualified service and proficient skills with her persistent efforts.
Wang has long regarded the 900 residents on the island as her family members. She will do whatever it takes to relieve their suffering.
Wang has also long treated the island as her second home town. "I want to express my gratitude to my country for giving me an opportunity to do the things I like, and I want to thank the local residents for their trust and support," Wang said.
(Source: People's Daily and iqilu.com/Translated and edited by Women of China)