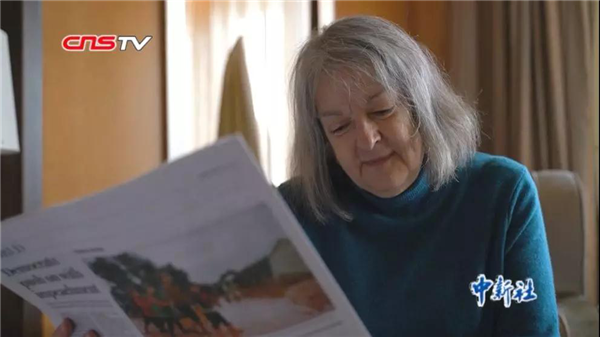 Elizabeth Wichmann-Walczak [Chinanews]
Elizabeth Wichmann-Walczak, who can speak fluent Chinese, is a longtime professor and an Asian theatre specialist in the Department of Theatre & Dance under the University of Hawaii.
Wichmann-Walczak said that she became interested in artistic performance when she was about 8. She fell in love with Peking Opera, or Jingju, when she was an exchange student in Nanjing University in 1979, the same year China and the United States officially established diplomatic ties.
During her stay in Nanjing, capital city of East China's Jiangsu Province, Wichmann-Walczak became an apprentice to Shen Xiaomei, the youngest disciple of Peking Opera master Mei Lanfang (1894–1961). In that period, except for sleeping and washing clothes, she spent nearly all her time in local opera schools.
In addition, Wichmann-Walczak received great support and encouragement from Kuang Yaming (1906-1996), then president of Nanjing University, in presenting what she had learned on the stage.
To the surprise of all, Wichmann-Walczak enjoyed great success and earned the nickname "foreign concubine" for her marvelous performance in the well-known Peking opera The Favorite Concubine Becomes Intoxicated in 1980.
Drawing inspiration from her experience in China, Wichmann-Walczak completed her doctoral dissertation entitled the Auditory Arts of Peking Opera when she returned to Hawaii in the autumn of 1981.
Furthermore, Wichmann-Walczak has made advocacy of Peking Opera in the US her personal mission over the past four decades. She invited Shen to give lectures to local students in Hawaii every four years, and she organized highly-rated performances of Peking opera on the local stage, to promote cultural exchanges between the two countries. She has also successfully adapted into English a dozen Peking operas, including the Return of the Phoenix and Women Generals of the Yang Family.
Thanks to the consistent efforts of Wichmann-Walczak, newspapers in Hawaii have become accustomed to using Jingju instead of Peking Opera in their coverage. Meanwhile, many former students of Wichmann-Walczak have told her that they have benefitted a great deal from training sessions connected with Chinese Peking Opera.
Wichmann-Walczak won the 7th Brilliance of China – Choice for Chinese Culture Promoters of the Year award, which was jointly organized by the State Council Information Office, the Chinese People's Association for Friendship with Foreign Countries, and China Media Group in Beijing on December 6, 2019, in recognition of her decades-long contributions to the overseas promotion of Peking Opera.
Wichmann-Walczak revealed that although she has already retired, she will continually improve her English adaption of Chinese Peking operas, offer professional guidance to local stage plays, and publish her writings in the years to come.
Elizabeth Wichmann-Walczak (L1) gives direction for a Chinese Peking Opera. [Chinanews]
(Women of China)