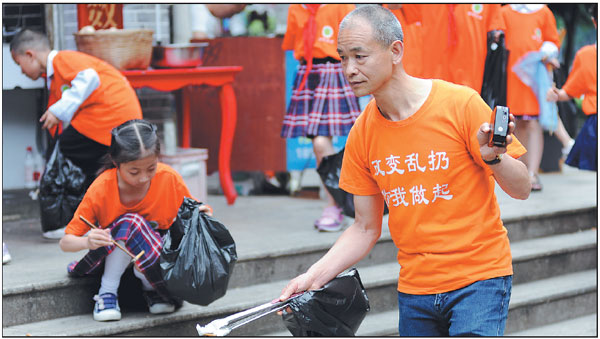 Zhong Congrong leads a group of primary students collecting rubbish in Liangjiang New Area, Chongqing. [For China Daily]
Zhong Congrong is on a mission to stop littering and doesn't mind getting his own hands dirty.
Zhong Congrong is so passionate about cleaning up rubbish his wife sometimes worries about his personal safety.
Around Chongqing, he harangues people who litter and chases them through the streets if they don't pick up after themselves. At night, he goes to restaurants and exhorts diners through a mini microphone not to leave a mess.
The 54-year-old also happens to be a multimillionaire. Zhong runs three companies involved in foam products, auto parts and real estate in the city, where he is well-known for his mission to stop littering.
"I am worried about his safety because of his bad temper," his wife Yang Zuhui said.
"He has had several disputes and even physical confrontations with unreasonable people. I just hope my calming influence can help avoid such unpleasantness."
The businessman's crusade began in 2015 during Spring Festival, when Zhong and his wife took their son and daughter on vacation to Sanya, Hainan Province.
His daughter was in primary school and had to complete a parent-child activity, so Zhong advised the family to pick up trash on the beach.
"I found some tourists had thrown empty bottles, fruit and used tissues everywhere, making the beautiful coastline very dirty and messy," Zhong recalled.
"I made the decision to clean up the beach, hoping to improve my children's awareness of environmental protection through a family activity."
On the beach, they encountered an elderly couple who were doing the same thing.
"They told me that every morning they came there to collect trash after they had retired to the city five years earlier," he said.
"I couldn't help expressing my admiration. But at the same time, I realized that the amount of trash would never decrease if we only depended on them picking it up without promoting public awareness of environmental protection."
For the entire holiday Zhong joined the couple cleaning up the beach.
But he didn't stop when he returned to Chongqing, even though he was busy with work.
Strict Rules
Every morning before work he spends an hour collecting trash on the streets near his home.
After dinner, he goes to nearby restaurants and repeatedly broadcasts "Please don't litter" with a mini microphone.
Whenever he sees someone throwing rubbish on the ground he asks him or her to pick it up.
"Some of them refuse and speak to me quite rudely, but I never give up until they do," he said. "I can't count how many times I've run after a person for several streets."
Zhong had 3,000 orange T-shirts made with the words "Don't throw trash to our descendants" and distributed them to his employees, customers and relatives.
He also printed more than 5,000 leaflets with the same message, posting them on his car and, with the permission of authorities, in public areas such as parks and residential areas.
Zhong said he is embarrassed when he sees media reports about Chinese citizens throwing rubbish while traveling overseas.
"In recent years, we see more news about Chinese tourists who have been criticized for their uncivilized behavior both at home and abroad, such as littering and climbing cultural relics for photos," he said. "I feel so ashamed that I decided to be an environmental protection volunteer to implement change as well as set a good example for younger people."
In his companies, he has set up a strict punishment system for littering and wasting food. The rules apply to everyone.
One time his son, who works at one of Zhong's companies, was having lunch in the canteen.
He left his lunch at the table to meet a customer and was forced to donate 50 yuan ($7) to a public welfare program as punishment.
Starts at Home
Zhong said convincing his family of the value of what he was doing had been the most difficult part of his work.
"In the eyes of my wife and daughter, what I did made them feel quite humiliated," he said. "They expressed strong opposition and refused to walk with me when I was wearing the orange T-shirt."
During a school trip organized by his daughter's school, Zhong saw some parents throwing trash at a picnic. He couldn't help himself and started blurting out his anti-littering slogans.
His daughter felt ashamed and bowed her head to avoid people's stares. But to her surprise, her classmates gave her the thumbs-up after Zhong's speech.
"My daughter told me that she felt quite proud, especially when they said her father came across as a hero who protects the earth," he said. "From then on, she changed her attitude and began to publicize environmental protection at school."
His wife also came around to his thinking and now helps him collect trash on the streets.
What makes Zhong happiest is the improved cleanliness in Yuanyang subdistrict.
The owner of a restaurant Zhong frequently visits said: "The regular customers are all familiar with the old man and they pay more attention to their environment. We also prepare more trash cans in the restaurants to avoid waste being scattered. There has been less trash both indoors and on the streets."
Zhong said he will continue doing the work for the rest of his life. "We shouldn't just think about what we can take from society, but what we can leave behind for the world."
(Source: China Daily)