The elderly couple donate everything they owned to build a school and subsidize impoverished students.[CCTV]
A couple, over 70 years old, in Shanghai has donated all their savings and two parcels of real estate to subsidize impoverished students. What they have done has won high appraisal from neighbors and other citizens.
Bi Ming, who died of myocardial infarction in 2007, was the son of Bi Yuanhong and his wife Mao Yi. In great grief, the couple remembered that their son's wish was to build a school in a rural area.
To fulfill it, they worked with the Shanghai Charity Foundation to sell a 35 square meter apartment and donated 400,000 yuan (US $ 56,961.4) for building a primary school in Zuoshui County of Northwest China's Shaanxi Province, which they named "Bi Ming School".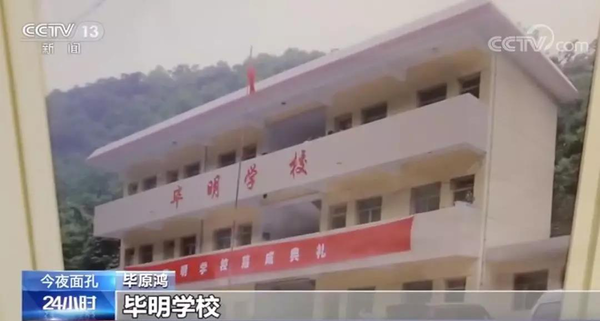 Bi Ming School [CCTV]
In 2014, the couple donated another house worth six million yuan (US $854,440 ) and an additional 1.2 million yuan (US $170,888.40) to the Shanghai Charity Foundation for the establishment of the Bi Ming Charitable Fund.
The elderly couple donated all they owned to the charity work. In response, various social sectors took the responsibility of caring for them as they were getting old.
Bao Yungang, in charge of the Minhang Charity Branch and the executor of the Charity Fund, has been taking care of the couple for six years. He also hired a full-time home-care worker for them, with the expense covered by the Shanghai Charity Foundation and the local aging work committee.
The Shanghai Charity Foundation has a charity relief project to help kind-hearted people in difficult situations. "The original intention of this project is to let good people have a good return," Bao said.
The Bi Ming Charity Fund has subsidized more than 70 university students to help them complete their studies. The students often visit the couple and vow to give back to society after graduation.
(Source: CCTV/Translated and edited by Women of China)