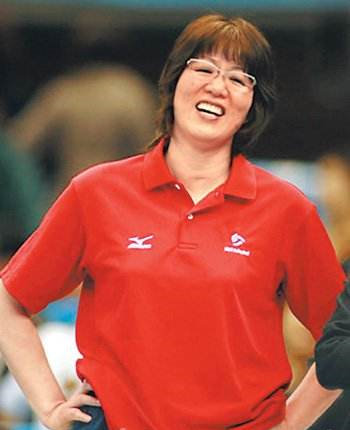 Lang Ping [guancha.cn]
A film directed by Hong Kong director Peter Chan is being shot to honor several generations of Chinese women volleyball players.
The film has world-famous Chinese actress Gong Li in the part of Lang Ping, renowned as "Iron Hammer" who captured world championship multiple times with the Chinese women's volleyball team and is currently the team's Head Coach.
In order to play the part of the legendary volleyball player and coach well, Gong came to the training site of the team, observing Lang's words and deeds.
Lang spoke highly of Gong's performance in the film when she and Zhu Ting, captain of the Chinese women's volleyball team, attended a training camp in Beijing on October 13.
Zhu said she admired Gong very much, since during the shooting Gong showed Lang's appearance and mannerisms, especially the expressions in her eyes and her movements, including even those of her fingers.
Zhu also played a part in the film and she said it was her first time to take part in a film shooting, adding that it's more difficult to be an actor, since athletes only needed to show their skills but the actors needed to show their inner world through expressions and emotions while playing volleyball according to the director's requirements.
However, Lang said to her playing volleyball was more difficult than being an actress.
It took at least 10 years for Zhu to rise to fame in the field but playing herself in the film could be realized in a short time, Lang noted.
Gong Li takes some notes as she watches the team training in Ningbo, East China's Zhejiang Province, in August. [guancha.cn]
The film tells a story that spans about 40 years and has Huang Bo, a well-known actor in China, playing the lead role. It will hit Chinese theaters on in January, 2020.
A poster of the film [guancha.cn]
(Source: guancha.cn/Translated and edited by Women of China)