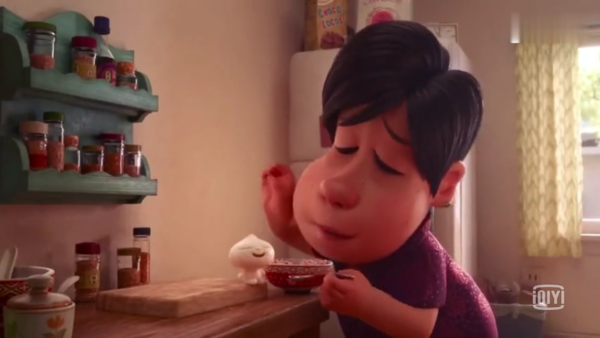 Click the photo to watch the short film.
The animated short film, Bao, was selected Best Animated Short during the 91st Academy Awards, or the Oscars, at the Dolby Theatre, in Los Angeles, the United States, in February. Bao was written and directed by Domee Shi, a China-born Canadian director, and it was produced by Pixar Animation Studios. The video explains the relationship between Chinese culture and family affection, and it touches the hearts of international viewers.
Shi, who was born in Southwest China's Chongqing Municipality in 1989, moved to Toronto, in Canada, with her parents when she was two. In 2011, after she graduated from Sheridan College, Shi began working as a story intern at Pixar Animation Studios. She helped animate several films, including The Good Dinosaur,Incredibles 2 and Toy Story 4.
Shi became the first female to direct a short video for Pixar, and the first China-born writer and director of a short film for Pixar. Her cross-cultural, female-centric family story in Bao struck a chord with both viewers the judges of the Oscars. "To all of the nerdy girls out there who hide behind their sketchbooks, don't be afraid to tell your story to the world," Shi said in her acceptance speech during the 91st Academy Awards.
In Bao, a Chinese mother suffering from empty-nest syndrome gets another chance at motherhood when one of her dumplings springs to life as a lively, giggly dumpling boy. She excitedly welcomes this new bundle of joy into her life, but Dumpling starts growing up fast, and she must come to the bittersweet revelation that nothing stays cute and small forever. The short film explores the ups and downs of the parent-child relationship through the colorful, rich, and tasty, lens of the Chinese immigrant community in Canada.
Shi said her inspiration was derived mainly from her own experiences — as an only and overprotected child — while growing up in a caring family. "It's mostly inspired by my mom, because I spent a lot of time with her. When I left for school and Pixar, it was hard for her to let go ... Traditionally, Chinese parents don't directly say 'I love you' to their children. They express their love through other ways, such as making delicious foods for their children, or fussing over them," Shi once told Xinhua News Agency.
With Bao, Shi set out to make a short film that would profile real Chinese culture, yet appeal to all viewers. "We didn't use dialogue in the short film because I wanted this story to be as universally understood as possible. You strip away language as a barrier so your story can be understood by people of all ages, all backgrounds and all cultures. I think it is true to the Chinese culture as well. At least, that's my experience; they always showed their love and communicated it through their actions," Shi explained.
She led a production team of more than 100 people as she brought her story to life. "There are cultural differences. We had to explain to our American crew why we had to do things a certain way, and what a traditional Chinese home would look like," she said. She invited her American colleagues to visit the local Chinatown, so they could better understand Chinese culture, Chinese food and the lives of Chinese people.
"I feel honored, and lucky, to be the first female director of a Pixar short film. Pixar has always been supportive of me as a creative storyteller. I hope I am the first of many to follow. Things are changing in the animation industry. In some American animation schools, 75 percent of the students are women," Shi said.
Shi is grateful for her parents. Her father, Shi Lei, is an artist and distinguished professor at Chongqing-based Sichuan Fine Arts Institute. It was her father who first guided and encouraged her to draw. "I shed tears when I first watched the short. It was full of love between parents and children," Shi Lei said.
Her mother, Zhong Ningsha, who received her Ph.D. in education from the University of Toronto, is good at cooking. Zhong always cooks delicious foods for her daughter. Domee Shi invited her mother to serve as cultural consultant of Bao. Domee Shi said, "I invited my mother to give several classes to our crew members, showing them how to make dumplings, and we recorded the whole process of her making dumplings. She told me she liked the short, and she watched it many times."
Now, with the success of Bao, Domee Shi is on the fast track to animation stardom, with a feature of her own at Pixar.
(Women of China English Monthly May 2019 issue)