China's Li Na (L) and France's Mary Pierce react during a ceremony marking the day they have been elected to be included in the International Tennis Hall of Fame at Rod Laver Arena at the 2019 Australian Open in Melbourne, Australia, on Jan. 22, 2019. [Xinhua/Bai Xuefei]
China's two-time Grand Slam champion Li Na will receive her sport's ultimate honor on July 20 when she is officially inducted into the International Tennis Hall of Fame in Newport, Rhode Island.
France's Mary Pierce and Yevgeny Kafelnikov of Russia, who also each won two Grand Slam singles crowns, will be inducted with Li.
The trio was honored in a special ceremony in Rod Laver Arena at the Australian Open on Tuesday.
Li, Pierce and Kafelnikov are joining an elite group of 254 individuals hailing from 23 nations. Induction recognizes their careers as being among the most accomplished and impactful in the history of tennis.
Previous inductees include Martina Navratilova, Chris Evert, Pete Sampras, John McEnroe, Bjorn Borg, Kim Clijsters and Martina Hingis.
As a two-time Grand Slam champion and a trailblazer for the sport in her homeland, the 36-year-old Li is the first player from Asia to be included in the list of greats.
"It's a pleasure to congratulate Li Na and to welcome her as China's first Hall of Famer," ITHF president Stan Smith said on the weekend.
"Li was an incredibly dedicated athlete who set and achieved goals at tennis' highest levels. Her accomplishments rank her among the best in the history of our sport, and it is well deserved that her inspiring life and career will be honored at the International Tennis Hall of Fame.
"We look forward to celebrating Li Na, along with Mary Pierce and Yevgeny Kafelnikov, and welcoming them as Hall of Famers in Newport in July."
Li, from Wuhan, Hubei province, reached a ranking of world No 2 in 2014 and was responsible for a dramatic shift in the level of interest in tennis in China.
Her first major title came at the 2011 French Open, where she defeated Petra Kvitova, Victoria Azarenka, Maria Sharapova and defending champion Francesa Schiavone en route to the trophy.
In 2014, Li won a second major title, this time at the Australian Open, where she was a finalist in 2011 and 2013.
Li won nine WTA singles titles in all, compiling a record of 503-188. Her career accomplishments, combined with her engaging personality, resulted in a transformative effect on the popularity of tennis in China, where more than 116 million people tuned in to watch her French Open final.
"I'm incredibly honored to become a Hall of Famer. I love tennis and am grateful for all the opportunity it has provided me," Li said on the weekend.
"I have loved seeing the sport grow in China and I'm proud to be part of that history.
"To have my career and China's growing tennis history be recognized at the International Tennis Hall of Fame is a great honor and I'm humbled and grateful. I look forward to the celebration in Newport."
A player is eligible for Hall of Fame induction five years after retirement from competition.
The ITHF nominating committee, comprised of expert tennis media, historians and industry leaders, determines a ballot of candidates annually.
The Player Voting Group, which consists of tennis media, historians, Hall of Famers and other experts, then vote to determine who will be inducted. A minimum of 75 percent affirmative votes is required.
Additionally, new this year, tennis fans around the world were invited to vote in the process, with the top candidates in the fan poll earning bonus points.
Li was the top recipient in the Hall of Fame's first-ever fan balloting.
Established in 1954, the International Tennis Hall of Fame is a nonprofit institution that preserves and promotes the history of tennis and celebrates its champions, thereby serving as a vital partner in the growth of tennis globally.
Annually in July, the venue hosts the Dell Technologies Hall of Fame Open for the Van Alen Cup, an ATP World Tour event.
Li Na competes in a match. [Xinhua]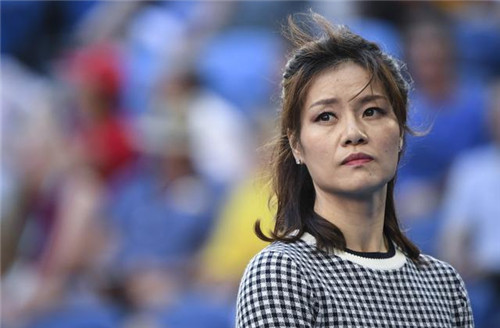 China's Li Na reacts during the ceremony at the 2019 Australian Open in Melbourne. [Xinhua/Lui Siu Wai]
(Source: China Daily)