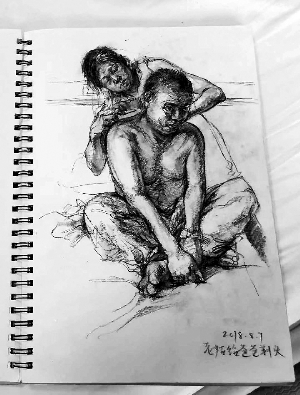 A sketch by Wang Tianyue [Xinhua]
A young woman from Shenyang, a city in northeast China's Liaoning province, recently won praise from netizens after she uploaded a video showing the sketches she has drawn of her father who has been battling cancer since March.
Wang Tianyue, 21, is from a family of three. Her father was diagnosed with a rare type of cancer that affects his bile duct.
Ever since, she has recorded in sketches how her father has been fighting cancer in an attempt to capture the special moments forever.
Wang cultivated her talent for drawing under the influence of her father who graduated from Luxun Academy of Fine Arts in Shenyang. Since childhood, she has always dreamt of becoming a full-time painter.
"Most of my relatives advised me to study at a teacher-training college so as to gain a stable profession. My father was the only person who supported me to pursue drawing, as he knows that is my dream," said Wang.
After her father was hospitalized, she had spent many sleepless nights. Worse still, she felt numb in her arms and legs as if she was in a trance. However, she knew she must face the situation head on and be tough.
"In the early days of his disease, I hoped he could recover. But now, I just hope he can have less pain," said Wang.
In her sketches, her father sometimes grins from the bed or frowns because of pain. Each sketch reflects her deep love for her beloved father.
Her family, however, has run out of money. Given the situation, her father decided to be discharged from hospital regardless of his physical condition.
Wang then made a decision to sell her sketches on Weibo, the Chinese version of Twitter.
After learning about the story, many netizens volunteered to donate money outright. Their gesture made her shy.
"I'm really grateful to the donors for their kind heart. As I have nothing to give them in return for their kindness, I will present each of them with my sketches to show my gratitude," said Wang.
Having her father to look after, Wang has little time to go out to paint landscapes, so most of her works are portraits.
Later, Wang made a video with her sketches and uploaded it online to keep her memories of every day she has spent with her father.
"I won't let you give up. As long as there is a ray of hope, I will try my best to help you recover, my dear dad," wrote Wang at the end of the video.
This video has inspired many grateful netizens, who left messages showing their encouragement for Wang and her father.
Wang Tianyue draws a sketch for her father. [Xinhua]
(Source: Xinhua/Translated and edited by Women of China)