Grace Chen speaks at the unveiling ceremony for Xiongan Modern Fashion Customization Center and Xiongan Fashion Original Design Center on Sept 16. [China Daily]
China's star couturier Grace Chen has built a reputation over the past years by designing haute couture for elite women.
But now she's thinking bigger, with her plans to create distinctive men's clothing as well.
"Designing high-end menswear is not an impulse, but a dream for me," Grace Chen told China Daily, adding that she designed a suit as a gift for her dad.
"Each time my father wears the suit, I think he looks amazing, and I believe that the tailor makes the man."
From the couturier's perspective, men's clothing should be clean, simple and "back to the basics". "Compared to the supporting role haute couture has played for women, menswear is more than a decoration. It's an integral part of the body to show off the wearer's unique character."
To stand out in the menswear market, Grace Chen plans to shake hands with Britain's Denman & Goddard in the near future.
According to Chen, the well-established fashion brand boasts more than 200 years of history and its garments are handcrafted by the finest artisan tailors, using methods handed down over many generations.
"The company counts many famous people among its clients, particularly in the fields of politics and the professions in Britain, and their professionalism in the handcraft can never be doubted. For my brand, our team will be responsible for the designing, as Chinese women are more aware of Chinese men's figures and tastes," Grace said, adding with a laugh that, "I hope the ideal mode will be 'designed in China but made in the UK.'"
Also, Grace Chen introduced her brand to the Xiongan Modern Fashion Customization Center and Xiongan Fashion Original Design Center on Sept 16. As a pioneer in the fashion circle taking root in China's Xiongan New Area, Grace said that Xiongan's fashion power should not be underestimated.
The center is located in Rongcheng county, part of Xiongan New Area, and is well-known in China for its clothing outsourcing industry and home to numerous clothing companies.
"Given the county's past industrial base, I think it's a wise choice to expand my brand there. Through industrial upgrades and governmental policy support, it is expected that Rongcheng will serve as one of the clothing hubs in northern China."
Born in the 1970s, Chen became the first student from the Chinese mainland to study fashion design at New York's renowned Fashion Institute of Technology. She moved back to Shanghai in 2009 and launched her namesake couture house in the same year.
As a fashion designer, Chen has won commercial success while pursuing her dreams. "I want to not only show my best works to the world, but also promote a modern Chinese view of beauty."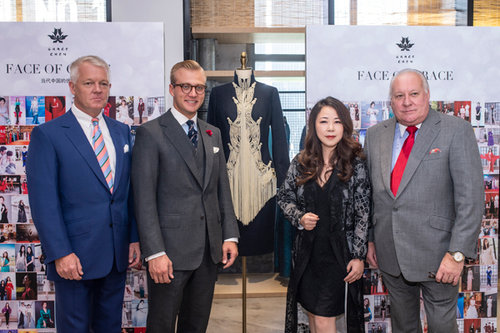 (From left to right) James Mathew Houghton, Joe Holsgrove, Grace Chen and David John Cook take a photo to celebrate the introduction of Grace Chen brand to Xiongan on Sept 16. [China Daily]
Grace Chen speaks at the International Forum of Modern Fashion Customizaton on Sept 16. [China Daily]
(Source: China Daily)