The latest batch of female cadets from a brigade at People's Liberation Army Air Force Harbin Flight Academy, in northeast China's Heilongjiang Province, qualified as trainee pilots and earned a place in the nation's air force on June 21.
As pilots they will fly fighter jets in the future as the third batch of an all-women team currently in active service.
In China, there are relatively few female combat pilots. Such training courses are more difficult and have a higher elimination rate and students must overcome many difficulties step by step.
Furthermore, not all pilot cadets can be the true pilots, even though they may have studied for five years and have trained every day.
In 2013, 38 female cadets were admitted to the academy, but only a dozen successfully graduated.
For them, being a female pilot is not only an identity but also a responsibility.
Their uniforms represent the air force of the country and make them a symbol of self-motivation for women in modern society.
Li Zhaoting, who is from southwest China's Chongqing, said: "I first knew about being a female pilot in 2009 when I still was a student at middle school."
At that time, the first batch of female fighter pilots appeared at the National Day military parade, which impressed Chinese people.
In 2013, the pilot recruitment department of the Air Force began selecting female pilot trainees among high school students.
During the selection, thousands failed to pass the rigorous health assessments and psychological selections.
Furthermore, the result of the college entrance exam was also a decisive factor. At that time, the air force raised its standard of academic performance for pilots, which required them to get dozens of points more than the minimum passing score for top universities in their regions.
At last, only 38 female high school graduates remained among tens of thousands, and these were selected to go forward.
According to the training program of the air force, the 38 women were trained on such aspects as aviation theories and professional education over four years.
Li Zhaoting said: "We mainly learned the courses of fundamental education and physical training during the first two years, which is as same as other colleges and universities, and after the two years, we will begin to learn relevant information on flight expertise."
Furthermore, they need to overcome physical stamina.
Cheng Jingyun, from northwest China's Shaanxi Province, said: "We all have a full curriculum schedules at the beginning of the semester, so we often rushed to attend the physical classes. We often occupy the three gyms and two playgrounds."
Wang Yanran, from north China's Hebei Province, said: "We even had to run dozen of kilometers and then carry out other exercises during one day."
When they came to the brigade of Harbin Flight Academy, they all say their lives were fast-forwarded.
For these female pilots, flight is the most important thing in their minds. For example, Cheng said she always focused on the dashboard when she took the taxi.
  
Furthermore, in recent years, the air force has accelerated its steps to achieve strategic transformation, and flight academies has always updated the cultivating standards of pilots, said officials.
As a result, the female trainees has taken more flight training in complicated situations, including under extreme weather conditions and at nights.
Liu Xiaolian, an outstanding representative of female air force pilots, once said to the cadets, "You should be good combat soldiers, not performers."
Li Zhaoting said Liu's words will always inspire her to move ahead.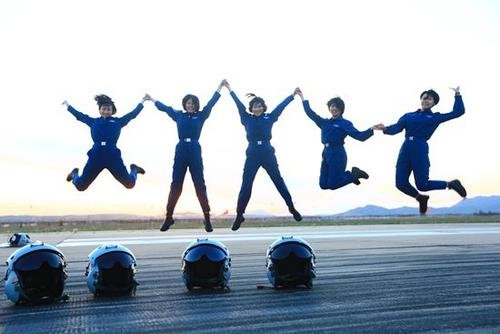 Five female pilots at the academy [clady.cn]
(Source: clady.cn / Translated and edited by Women of China)