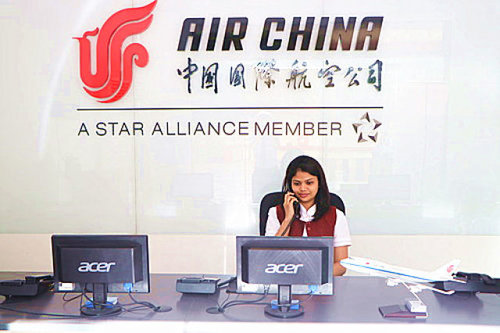 Ina at work [People's Daily Online]
26-year-old Ina has used her Chinese proficiency to help her get into the Mumbai Office of Air China, the Chinese flagship airline. The Indian born bilingual originally came to China to learn Chinese on a government scholarship in 2015. After returning to her home country, she was recruited by the Chinese company.
Ina said she is aware of the revolutionary opportunities learning Chinese has brought her since her return less than two years ago.
"My parents are retired. My monthly income is 40,000 rupees ($599) more than before, which means I can raise my family of five more easily," Ina said. She now teaches her friends Chinese after work.
"My life has changed a lot since I became a member of Air China. Now I' m more responsible and motivate people around me to learn Chinese. I earn people's respect and my parents take pride in me," the 26-year-old said in Chinese.
Learning Chinese means more opportunities for us, because there are a lot of Chinese enterprises coming to India and they will keep coming, an Indian university student said.
Experts predict that there are currently tens of thousands of people learning Chinese in India. They attributed the craze for learning Chinese to massive job opportunities created under the rapid development of China-India economic and trade ties.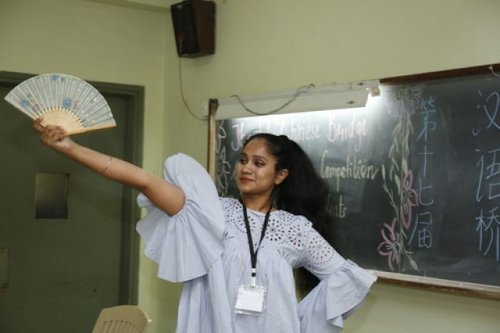 A constestant performs fan dance during the "Chinese Bridge" contest in Mumbai University. [People's Daily Online]
(Source: People's Daily Online)
Please understand that womenofchina.cn,a non-profit, information-communication website, cannot reach every writer before using articles and images. For copyright issues, please contact us by emailing: website@womenofchina.cn. The articles published and opinions expressed on this website represent the opinions of writers and are not necessarily shared by womenofchina.cn.