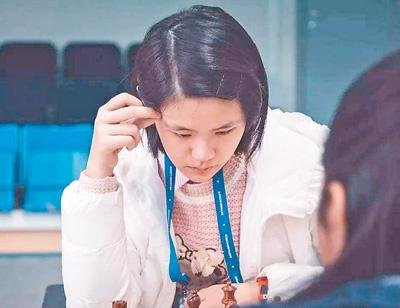 Zhu Jin'er competes in a game of chess.
Zhu Jin'er, 15, has already won multiple titles at provincial and national competitions since she started playing 10 years ago, with many hailing her as the brightest chess star of her generation.
Zhu was born in Jiaxing, eastern China's Zhejiang Province in 2002. She was recruited by her provincial team in 2009 and was selected as a member of Chinese National Team B in 2014.
She has won individual titles at the Li Chengzhi Cup National Junior Chess Championships five times, the team title at the National Mind Sports Games in 2015, the Girls U14 title at the World Junior Chess Championship in 2016 and came first in the qualification trials for the National Team B last year.

Stamp Chess in Heart
When 4-year-old Zhu took an interest in a chess class, her teacher noticed the special girl who always listened to the techniques and terminologies quietly. Soon, she made fast progress and could read chess manuals by herself.
Zhu's enthusiasm towards the game amazed her parents, so they sent her to a chess school for professional studies. Since then, Zhu continued to attend class even when she fell ill with a fever.
On one stormy summer night, her father refused to take her to chess school, but little Zhu held the doorknob and cried for over half an hour. The father had to compromise at last.
"Zhu is cute and clever, but when in competition, she is naturally aggressive. She has a strong desire to win no matter who her opponent is," says Wang Shaojie, Zhu's chess coach, in praise.
Zhu's most famous performance was in the World Junior Chess Championship 2016, organized by the World Chess Federation. It was Zhu's first time participating in the tournament.
She managed a great comeback in the finals after losing two rounds, which brought her the world junior championship and the title of International Female Chess Master.
To be a chess player means to give up a conventional childhood, but Zhu has never wavered because she loves the game. She has already started her journey to China's Team A.
"It's time to shine on a larger stage," concluded Zhu.
(Source: People's Daily / Translated and edited by Women of China)