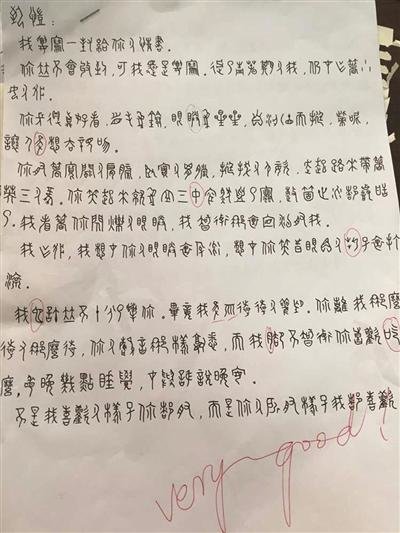 A love letter written with ancient Chinese characters [Chutian Metropolitan Daily]
Actor Wang Kai, who rose to stardom recently for his performance in the hit TV series "Nirvana in Fire" (Langya Bang), never imagined that his fans would write to him using ancient Chinese characters.
He was just one of many who received letters with characters picked from ancient inscriptions found on bones, tortoise shells and bronzes.
The writers of these "love letters" were students who sat in on an optional course opened by Xiao Shengzhong at the School of Literature of Wuhan University, located in central China's Hubei Province.
Formerly a member of staff at a provincial museum, Xiao has taught the course on ancient Chinese characters for a decade, always endeavoring to add appeal to his lectures.
"If the words do not have stories behind them, they would be dry and boring. The students would have no interest in learning them," he said, explaining why he introduces anecdotes about different words into his lectures.
"In the second week of the current semester, when I was teaching the class, I recalled my story of writing a love letter to my girlfriend in ancient Chinese characters," he said, adding that he wrote her a poem on a postcard, which was unfortunately lost en route.
He wished that his students could do the same thing to help him "seek the lost love letter."
"The students used all their imagination so as to consolidate what they've learned in an enjoyable way," he said.
To finish the assignment, some students spent a week or even a month producing letters, with the shortest at a few dozen words and the longest reaching more than 1,000.
Due to the limited number of ancient characters in each style, in general they used three to four types in the message. Those who do not have a boyfriend or girlfriend wrote to their expectant ones, and even to one of the most popular actors in the country, Wang Kai.
Some students not only used ancient characters, but also wrote poems in the letters to express their affection.
Shi Jiannan, a sophomore in Wuhan University, wrote three ancient poems for the Qixi Festival, or the Chinese Valentine's Day, which falls on the seventh day of the seventh month in the lunar calendar. The poems express how he cherishes his relationship with his girlfriend.
Jin Tian, a female student recalled the scene when her boyfriend received the letter. "He was so happy reading it. I was also glad that I could have such a valuable chance to send my best wishes to him with the unique writings," she said.
The letters went viral online after they were released. Some netizens joked about how they dared to claim themselves a fan of an actor or actress even if the recipient did not have any real talents.
Admiration for attainment in ancient Chinese culture is widespread among Chinese netizens, showing a revival of interest in traditional heritages.
Earlier, an online debate between two netizens over the advantages of Nanjing, capital of east China's Jiangsu Province, and Hangzhou, capital of the adjacent Zhejiang Province, using ancient-style prose and poems, caught the attention of Internet users, who were struck by the pair's knowledge and talents in Chinese history and classic literature.
According to Xiao, to date a total of 4,000 Chinese characters have been discovered on tortoise bones and shells, of which around 1,500 are recognized.
Some 4,500 characters have been found from bronze inscriptions, with 2,500 recognizable.
Xiao's class has been popular among the students who are interested in ancient Chinese characters.
Actor Wang Kai, who rose to stardom after the featuring in the TV series "Nirvana in Fire" [china.com.cn]
(Source: Chutian Metropolitan Daily/Translated and edited by Women of China)