Feng Jian [voc.com.cn]
Feng Jian still vividly remembers her former friend, China's famous soldier Lei Feng (1940-1962), and often recalls stories of him even though she is in her eighties.
Back in 1953 Feng failed to enter middle school, so she returned to her hometown in Wangcheng County in south China's Hunan Province and worked as a farmer. She quickly acquired agricultural skills and at 16 was elected by the public as vice-director of local rural cooperative.
Feng volunteered to raise pigs when her cooperative came up with a proposal to develop the same year. Twelve months later, her scientific methods in animal husbandry were widely recognized throughout the province.
Therefore, she was voted as model for local youths and went to Beijing twice to meet with Chairman Mao.
Feng met Lei for the first time in the winter of 1956. After that, they often got together and talked about their favorite topics such as work, academic studies, their dreams and wishes.
They admired each other's best qualities and treated each like siblings. Both of them often disclosed their distress to each other and sought advice during their talks.
For instance, Lei encouraged Feng to continue her normal work when she took multiple posts in the same time and thus accumulated huge pressure in performing those duties.
Under the assistance and inspiration of Lei, Feng successfully overcame multiple challenges and completed her academic studies in Hunan Agricultural University.
After the death of Lei in 1962, Feng kept on publicizing his inspirational stories and worked at her posts with wholehearted dedication till her retirement in 1997.
Nowadays, she often goes to local college for the elderly and reads the writings of Lei.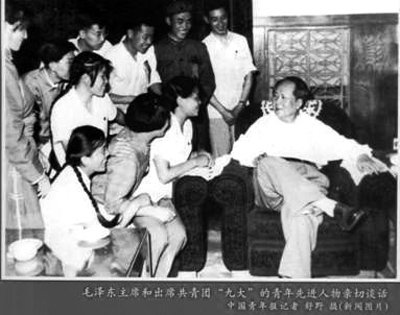 Feng Jian and other national models meet with Chairman Mao in Beijing. [voc.com.cn]
(Source: voc.com.cn/Translated and edited by Women of China)